Keeper Claudio Bravo's sale surely represent a good economic deal for the champions of Spain, Barcelona, as manager Luis Enrique looks to offload him from the current squad that he has. The star keeper who arrived at the Nou Camp for little more than a fee of €10m, could now be sold in the upcoming days for a fee of over €20m, after benefiting from his performances for a couple of successful seasons. The position of goalkeeper is difficult because there can only be "one" and the battle of egos was between the stars and manager was on the way to exploding in the Blaugrana changing room.
It is also true that the Catalans, no matter who they sign, may come off worse in a sporting sense both in the present and in the future. Allowing Bravo to move way from the Nou Camp, is to sell a regular first team player and strengthen a direct top Champions League rival. For as much money as they pay, it is not a good deal overall for Barca.
Barcelona have spent all summer stating that they have two superb shot-stoppers and that neither one would leave the Catalan club, unless their release clause was triggered. Now we shall see if this is true, because former champions of England, Manchester City are not expecting to pay the €40m which would release the Chilean from his contract at the Nou Camp.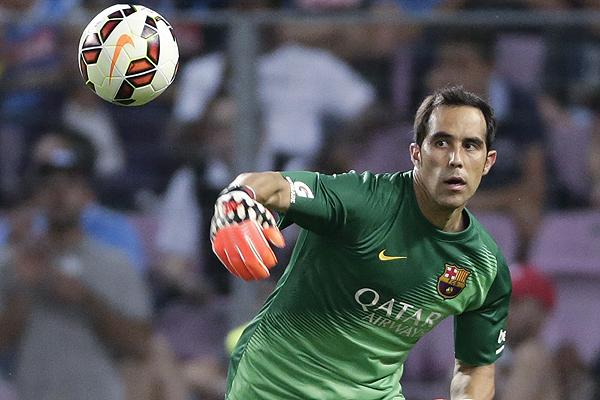 The Catalan club have clearly opted to back Marc-Andre Ter Stegen, though it would be making a huge error on their part, if they were to sign another keeper merely to act as a puppet for the German.
It is a very long season, with injuries and suspensions being part and parcel of it. A potential starter is required to compete with German international for a place which cannot be gifted to anyone. Claudio Bravo and Ter Stegen formed one of the best duos in European football, and Barcelona are running a risk of lowering their level of quality.
The technical staff still have to give the nod to the new signing which, perhaps, may be just as important, if not more, as the most awaited fourth forward. Barcelona can sign either Jasper Cillessen of Ajax or Diego Alves from Valencia as a replacement for Bravo. FC Barcelona's technical secretary has already made it clear that the Chile international will only be allowed to leave the for Etihad Stadium once a replacement arrives in Spain, so that they do not have to suffer at all from his possible departure.
However, it seems that that the deal has now been completed and he has completed his £17m move to City and has joined the squad. Well played Pep once again!! Well played!!