"No one saw it coming… no one!"
Madrid were playing away at the Riazor in January 2010 and leading 1-0 when Kaka picked out Madrid's number 14 on the edge of the box. The midfielder darted in the box and now one-on-one with the Deportivo goalkeeper, took a little touch with his left foot and shaped to shoot. He did not shoot. What he did is still part of a legend!!
The goalkeeper went down expecting a shot but Number 14, to the complete surprise of everybody, brilliantly back-heeled the ball into the path of Karim Benzema who was left with a simple finish and celebrated his goal with the man who made it all possible.
The outrageous back-heel he conjured up the unimaginable, that one moment of genius that etched itself forever in an observer's memory.
Marca's front cover the next morning called Guti's assist 'The heel of God'. This is what Sid Lowe wrote about the goal next day – "Guti instead left goalkeeper and defender on the floor to backheel the ball into the path of Benzema. He could have scored himself. But scoring would have been too easy; in the words of one of Guti's former team-mates, it would have been 'too vulgar'. Too ordinary. Too dull. Too normal."
That pass and that pass alone defines Guti; Madrid's number 14, the temperamental flawed genius who could never fulfil his gift, the "eternal promise". Also, if you think that it was a fluke, then you are wrong. In a 4-2 win over Sevilla in 2006, there was another spectacular back-heel flick pass – a pinpoint through-ball, delivered from the centre of the pitch around 25 yards from goal. This amazing flick tricked the entire Sevilla defence in a glance, finding Zinedine Zidane's feet with perfect precision, allowing the Frenchman to do what he does best.
Guti's back-heel was easily the best pass of that year as he chose to do what others would dread to think. Against Villarreal, he left his mark once again on the match. He volleyed home a spectacular goal that would have been impossible for many others, who just watched him score a perfect goal. Further, against Athletic Bilbao, Guti audaciously lobbed the goal-keeper instead of prosaically shooting, which added to his growing fame.
Here is the story of the genius who never fulfilled his promise!
José María Gutiérrez Hernández or more commonly known as Guti was one of the most talented players of his generation, capable of moments of sheer magic. There was no doubt in anyone's mind at that point that his unique ability and creativity stood out, not just initially, but at one of the biggest clubs in the footballing world. Revered for his flair, He was a serial winner who collected 16 trophies at senior level, including three Champions Leagues. Guti, a genius of a footballer who made over 500 appearances for Real Madrid and became a true club legend.
● THE BEGINNING:
There can't be doubt in anyone's mind that he was Madrid through and through. Guti joined the famous Real Madrid youth academy "La Fabrica" at the age of nine, starting as a striker prior to being moved into a play-maker role. His talent was recognized early, as he grew within the youth ranks rather quickly. After a season with Real Madrid C in the third tier of Spanish football, Guti was selected for the Spanish U18 squad to take part in the European Championships in Greece. Guti starred in the tournament as Spain went unbeaten, notably scoring in the final, a 4-1 victory over an Italian side featuring Buffon, Pirlo, Ambrosini and Totti.
When he returned from Greece, Guti was promoted to Real Madrid B for the next season that followed. Sparkling form in the second division with Real Madrid B earned him a call-up to the first team.
In an interview by ex-Madrid star and youth team coach Jorge Valdano, who gave the teenager his debut at the Bernabéu in December 1995 praised the player. Guti slowly began to establish himself in the first team, as the weeks went by. It is important to remember that the Madrid side that Guti broke into was much different to the team of Galácticos of this century. In Guti's debut season (1995-96), Real Madrid's first team featured nine players who had come through the academy, including stars Raúl and Manuel Sanchis.
● The Early Years:
In '96 season, Guti became a reliable player off the bench as Madrid won the league in 1997 and the Champions League in 1998. Under new manager Guus Hiddink, Guti managed to become more involved in the first team, starting seven consecutive league matches from November to January. Unfortunately for the Spanish midfielder, Hiddink was sacked in February and replaced by John Toshack who returned Guti to his regular role as an impact substitute, preferring a midfield three of Seedorf, Campo and Redondo.
Despite the change in manager, Guti appeared a career-best 36 times for the club and was rewarded with his first call-up to José Antonio Camacho's Spain squad. Guti made his Spain debut on May 1999 in Seville against Croatia. The following season, Guti started 35 matches and scored eight in all competitions as Real Madrid finished 5th but won their second Champions League in three seasons. He felt he had truly established as a regular in the Madrid midfield!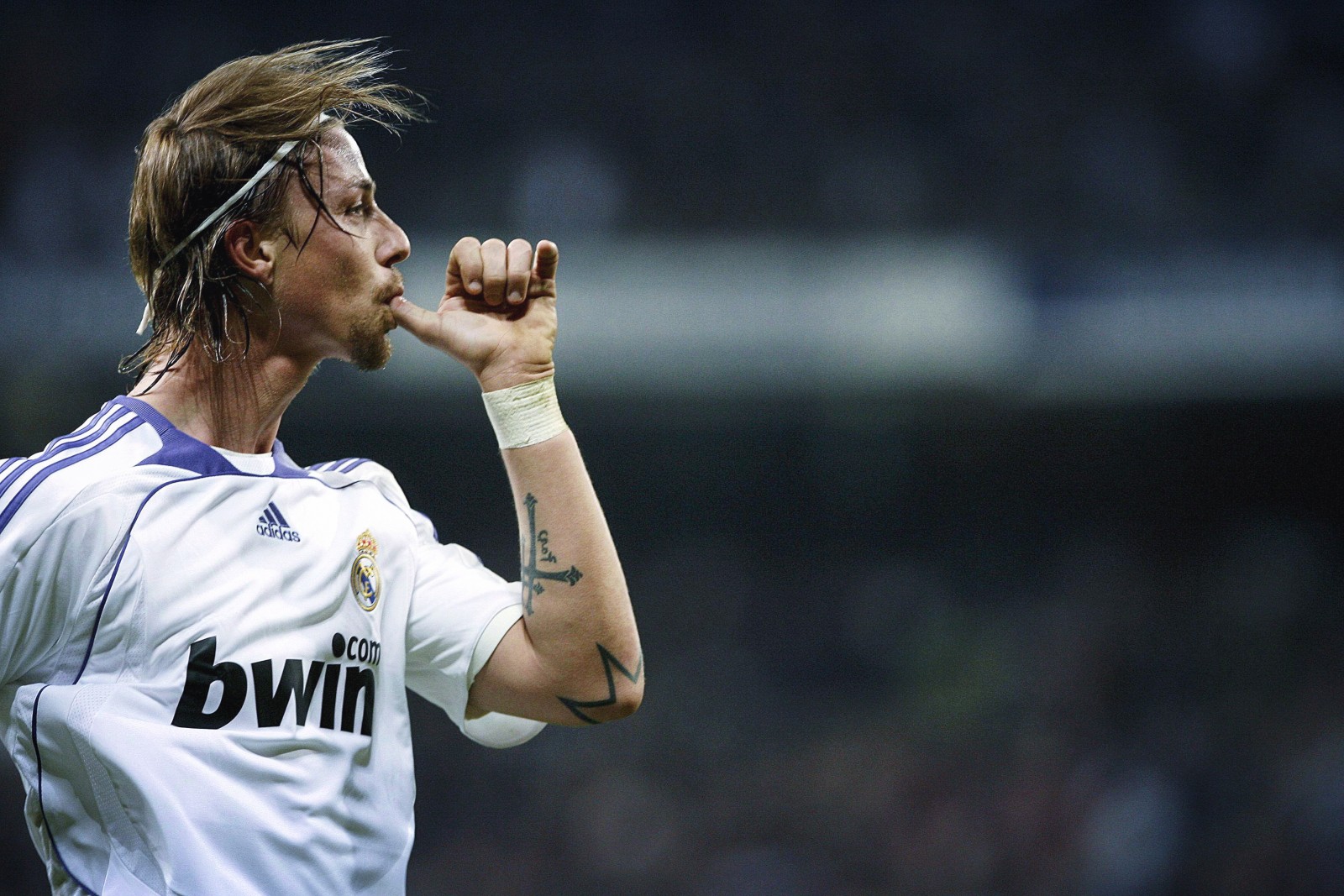 ● GALACTICOS ERA AND LATER CAREER:
The summer of 2000 was a time of change in Madrid, Florentino Pérez, became president of the famous club. Pérez wasted no time making additions to the European champions, spending €122m on six players including Luís Figo. Even when the new signings did come in eventually, Vicente del Bosque kept his faith in the young academy graduate and gave him enough game-time. With the competition for midfield places fiercer than ever, del Bosque often used Guti in a more advanced role. In absence of Morientes due to injury, Guti responded with the best goal-scoring season of his career, scoring an impressive 18 goals in all competitions as Madrid strolled to the title.
The addition of Zinedine Zidane into an already crowded midfield meant Guti started less than 30 matches for the first time in two seasons. Still, Guti played an important role in yet another Champions League-winning side, starting both legs in the Semi-Final win over Barcelona.
For all those who did not know, at the age of just 25, Guti had already broken through into the Real Madrid first team, making over a tally of 200 appearances and winning nine trophies including three Champions Leagues. Even as the Galácticos kept arriving, Guti maintained his position in the team, and in 2003 was named vice-captain by Carlos Queiroz, a role he could keep until he left the club in 2010. As the years went on, Guti became a useful tool to numerous managers, capable of playing behind the striker, in various centre midfield roles and even on the wing.
Occasionally linked with a move to receive the first-team football that his talent deserved, Guti remained loyal to Real even as competitors to his place arrived on an almost yearly basis. As the years went by, Guti remained quite an influential figure within the team but his playing time was reduced more frequently to cameos from the bench, often with great success. He had become an impact player, rather than a main-stay.
His potential to produce magical performances were now needed in a short period of time. Back in 2007, on one such occasion with only half-an-hour to play and Madrid down 1-0 at home to Sevilla, Guti was introduced in place of Raúl. Less than 20 minutes later, Guti had turned the match around almost single-handedly, producing two wonderful slide-rule passes for Ruud van Nistelrooy and Robinho. With just five games left in that particular season, the result proved vital as Madrid won the league that year due to their better head-to-head record over arch-rivals Barcelona. In 15 seasons with Real Madrid's senior side, the midfielder was a regular for just three campaigns! He has seen the Lorenzo Sanz era, Galactico era, the Calderon era and the neo-Galactico era. 16 coaches have been at the Bernabeu during his 15-year tenure.
Luis Figo, Zinedine Zidane, Ronaldo, David Beckham and Michael Owen all came during his peak years. None of them exactly took his spot. The systems changed, formations altered, coaches were fired but one thing remained constant – Guti, the home-grown lad wasn't made the central thread.
It is interesting fact that two of Madrid's landmark goals in Real's club history, their 5,000th goal in the league and 500th in the Champions League are scored by Guti. After his departure from the Bernabeu, Guti enjoyed another more memorable season in Turkey with Besiktas, where he produced more of the game. The first name on the team sheet, Guti scored 11 and assisted 14 in 37 matches, leading the club to the Turkish Cup title. Guti retired from football in 2012 and has since become a youth coach at Real Madrid.
● FLAWED GENIUS:
Unfortunately, his special performances appeared all too fleetingly. When Capello took up the poisoned chalice in 2006, he declared that he wanted to build his Madrid team around Guti. Capello soon realised, however, that he couldn't place his trust in the player, who often struck a lethargic and disenchanted figure when selected from the start of games. Substitute appearances had become his forte.
This reinforced Calderón's complain that Guti was an "eternal promise" in which his raw potential could never be fulfilled. His temperament was another huge obstacle to maximizing his potential. His well-documented discontent about having to accommodate the long list of stars arriving at the Bernabéu illustrated a frustration and maybe some amount of reluctance to rise to the challenge. Instead of generating empathy, the outbursts portrayed a bitter, player who demanded to be the centre of attention.
in June 2003 he said: "All the doors are closing on me. I was improving as a midfielder and Zidane arrived. I was improving as a forward and Ronaldo arrived. I am now in the national team as a midfielder and Beckham comes."
In fairness, there is solid argument to suggest his development was curtailed by Madrid's refusal to accept his natural position; making him end up as a Jack of all trades rather than becoming masterful at one. Galácticos came and went, but Guti remained. He resembled a symbol of continuity throughout the unstable Calderón era.
Responsibility and character were unfortunately mostly missing from Guti's mind, and for such a silky play-maker he has quite a collection of red and yellow cards! Possibly the most infamous incident was when he kicked a Real Sociedad player after he was already down (think Pepe).
Defined by one football writer as one of the best final-ball passers of all time, Guti went on to weave moments of sorcery from time to time, giving glimpses of his talent. His left-footedness made him sexy to watch, his physical appearance and Rockstar like activities off the pitch gave him dark glamour.
Zidane praised Guti a lot during his time at the Bernabeu while Ronaldo defined him as "exceptional". He is remembered particularly for the range and disguise of his passing, with Ronaldo describing him as the squad's finest talent during the striker's tenure in the Spanish capital. His most prolific season was in 2000-01 when stepping in for Fernando Morientes as a striker, he scored 14 goals in the league. He was at his creative best in the 2007-2008 campaign when he was the highest assist provider with 17 in just 27 league starts – more than Xavi, Andres Iniesta, Lionel Messi and Ronaldinho.
● EPILOGUE:
Guti divides opinion. He was a poet but he was an inconsistent, disruptive burst of art that disappointed as much as it mesmerized. Inconsistency plagued Guti and eventually stopped him from becoming the great player his former Real Madrid team-mates thought he should have been.
His moments of incredible geniuses are remembered by all but there are not too many, unfortunately! Guti is like Oscar Wilde of football – a maverick who produced relatively few pieces of art but the art he produced was mesmerizing.
As ending I present a quote from Benzema after scoring that goal from the famous pass –
"That is the kind of football that everyone wants to play but not everyone can. Guti is a genius. He knew, without even looking, that I was just behind him and he gave me the ball. I would bet if you showed that to someone who doesn't even like football, they would enjoy watching it".