India won the World Cup in 2011, after a 28 years-long wait. Team India faced their arch-rivals Pakistan in the semifinals in Mohali. Sachin Tendulkar played a crucial inning of 85, which helped India to win the match. However, the Master Blaster had a good share of luck in that match. The Pakistani fielders dropped as many as four catches during his innings. He even got a chance due to the Decision Review System (DRS).
Saeed Ajmal trapped Sachin Tendulkar in front of the wicket for a leg before wicket shout. The on-field Umpire Ian Gould had no hesitation in giving him out. The Indians challenged the decision and went for the DRS. The result came in India's favor. The hawkeye showed that the ball was missing the stumps. The Pakistani players could not even believe what they saw on the big screen. After so many years, Ian Gould revealed that he would still raise his fingers if it happened again.
Gould, in a recent interview, said that he was very happy when Sachin Tendulkar did not take the DRS and started walking towards the Pavillion. However, much to his surprise, he turned back and took the DRS.
"When I gave him out at Mohali, I'm thinking this is out. I will sit here and guarantee you, if I see it again, I'd still give it out, simple as that. He talked to Gambhir and looked like he was going to walk out, and I'm thinking thank God for that, then he spun on his heels and made that T sign and the world stopped," said Gould said to Cricket Pakistan.
Ian Gould feels that Sachin Tendulkar was plumb in front of the wicket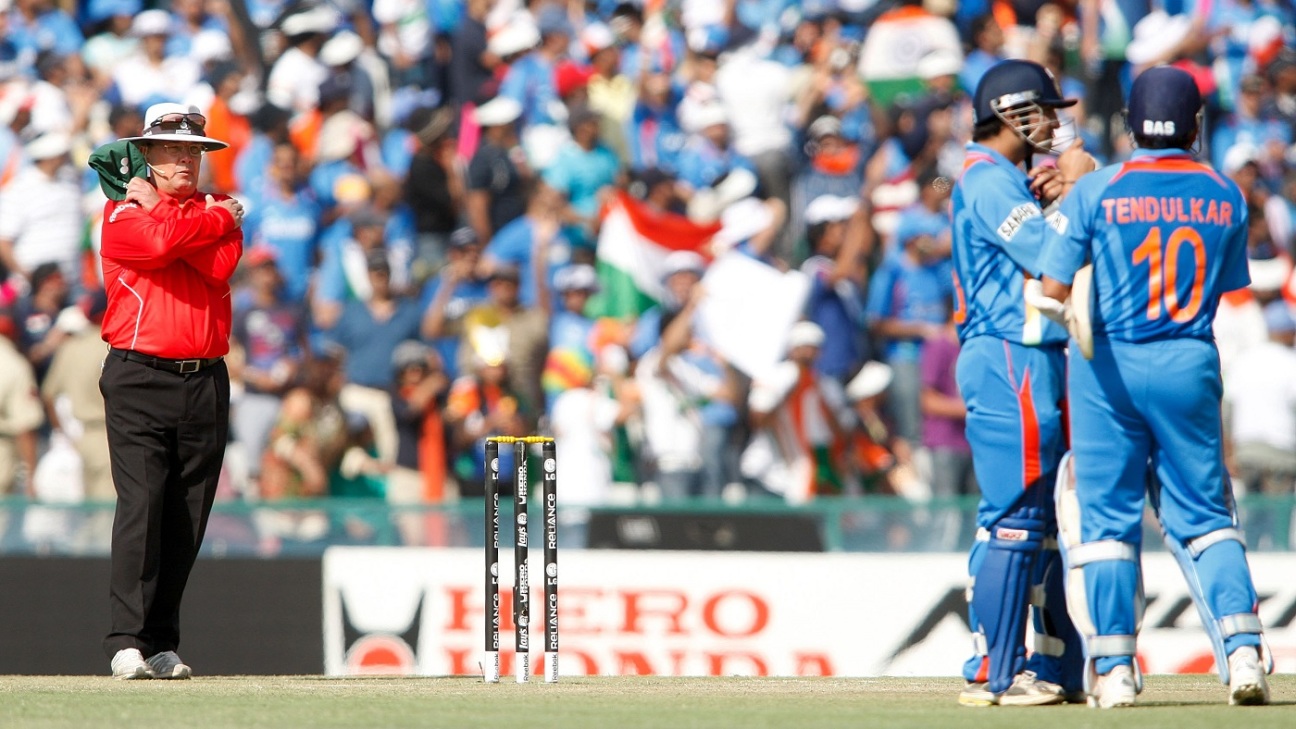 Ian Gould was an integral member of ICC Elite Umpire's panel until last year. He retired after the end of the ICC Cricket World Cup 2019. Gould recalled the incident in the World Cup semi-finals 2011. He felt disgusted and annoyed when he saw the ball missing the stumps in the giant screen.
"Eventually, Billy Bowden told me 'It is missing leg, I need you to change your decision.' Well, no disrespect to him, but I was watching on a 90-foot screen showing me it was missing leg by an inch so I didn't really need his analysis. I have got a picture here where I am looking slightly disgruntled or annoyed as I gave them not out," he added.
What Gould further said-
If anyone watches it by naked eye they will feel that Sachin was plumb in front of the wicket. However, the delivery from Saeed Ajmal had an extra spin on it. Hence, it went down the leg, missing the stumps. Gould expressed his disbelief on the ball missing the leg stump. He feels the call to be one of his easier calls to give as Sachin seemed plumb in front of the wicket.
"It does affect you at some stage but what you have to do is like a player, get rid of it as soon as you can. My problem was the disbelief of that thing missing leg-stump, in my mind, it was one of those straight-forward ones, gone," he said.