Ravindra Jadeja Kills It On Twitter- The cricket fans just seem to enjoy a good-healthy chat online. Anything that is eye-catchy or funny, seems to get the attention of cricket fans on social media. Many players have been often lauded and trolled for their wit. However, some conversations are just out-of-the-box and there is a mixed bag of reactions for them.
Ravindra Jadeja is known for his loud-mouth antics on social media, apart from his superb cricket. His spat with Sanjay Manjrekar cost the latter his job recently. So, he can really have his say when he needs to.
Recently, an awkward chat between Ravindra Jadeja and Sarah Taylor got viral. The fans just loved it and couldn't stop talking about it. The conversation went public due to Jadeja's lack of social media knowledge. The all-rounder may know a lot of things on the pitch but he still needs some catching up to do with respect to social media.
Sarah Taylor recently took retirement from cricket due to her anxiety disorder. The problem ended her career after playing 126 ODIs, 90 T20Is and 10 Tests. She managed to score a tally of 5056, 2177 and 300 runs in these formats respectively, which is quite respectable.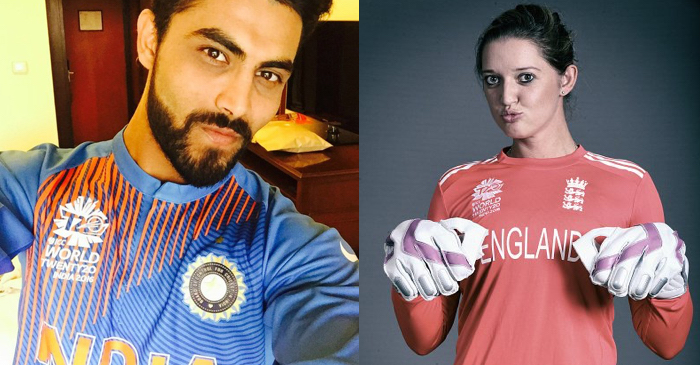 What Actually Happened?
Keeping that in mind, Jadeja was speaking to the former England skipper. Taylor is known for her quick hands behind the wickets. She even gets compared with India's most successful captain MS Dhoni for her skills, which is something to brag about.
However, with this chat going viral, her name was linked with Ravindra Jadeja. This was an epic conversation with the Indian all-rounder and the fans couldn't stop talking about it.
The actual incident had happened post the T20 World Cup finals in 2014. Both the Indian men's team and the English women's team lost their respective finals. Not the best result for either side and they would have been disappointed.
Jadeja was not well versed with Twitter at that point of time. He sent a direct message to Sarah Taylor, after her team's loss against Australia. The Indian star was not following her and thus she was unable to DM him. Due to that, Taylor was forced to reply to Jadeja's personal messages with Tweets instead. These, as we know can be seen by anyone and everyone.
Both were talking about their performances at that time on the platform. Soon they realized that Taylor's replies to him were public to everyone. Due to this, Taylor asked Jadeja to follow her on Twitter, so that she could directly message him.
However, Sarah kept replying through Tweets. Eventually, after a little while, the conversation turned a bit personal. They talked about that the fans who were watching their Tweets and thinking about something else totally.
At the end of it all, both decided to meet each other near the pool at 10 AM.
The chat that had gone public in 2014 is as follows-
Guess Jadeja isn't just smooth on the pitch. He is smooth as hell on Twitter and social media too. Guess who gets all the girls? Just kidding. Cheers to Sir Jadeja!!