After hitting the headlines last week for the brutal finger injury he had sustained and further got operated on, New Zealand all-rounder Jimmy Neesham made his umpiring debut on Friday, starring along with Billy Bowden for the 2021 Black Clash thriller between Team Cricket and Team Rugby on Friday.
The Highlights of This Epic Game And The Close Encounter
This list of things Jimmy Neesham cannot do just gets shorter every day. After establishing himself as a reliable all-rounder, an active fielder and a savage tweeter, Neesham has jumped into the umpiring boots. The Kiwi player – who is currently out of action– recovering from the finger operation he underwent walked down the pitch with the iconic Billy Bowden to umpire the best of New Zealand's cricket and rugby players. Team Cricket won the game by a margin as low as two runs.
Coming out to bat first, team cricket managed 189 runs in 20 overs. It was a stunning 80 from 51 balls coming off Fulton's bat that included seven sixes and four boundaries. At a time with Fulton's pace, 220-240 seemed as the mental target the Stephen Fleming and company carried but a good death over the effort by Team Rugby restricted them under 200 runs.
Good To See Daniel Vettori Back Again Along With Some Of New Zealand's Former Top Stars
The tournament didn't have the likes of Mahela Jayawardene or Muttiah Muralitharan featuring this time owing to the closed borders and COVID-19 restrictions but an excited Christchurch stadium made up for it.
While things were going at a great pace for team cricket, Fulton's wicket saw back to back dismissals. Black Caps captain Stephen Fleming (9), Craig McMillan (4) and Styris (8) failed to rekindle former glory. However, McCullum and Grant Elliott who remained unbeaten on 34 for Cricket ended things on a high.
An Umpiring Debut For Jimmy Neesham; Is There Anything That This Guy Can't Do?
For Team Rugby, most of the bowlers bowling to Fulton went for runs. Andy Ellis proved the pick of the rugby bowlers, taking 3-15 from three overs that resembled Nathan Astle or, perhaps, Gavin Larsen, New Zealand Herald said. It was Israel Dagg's thrilling caught and bowled that was just apt to remove Marshall and claim 1-27 from four overs.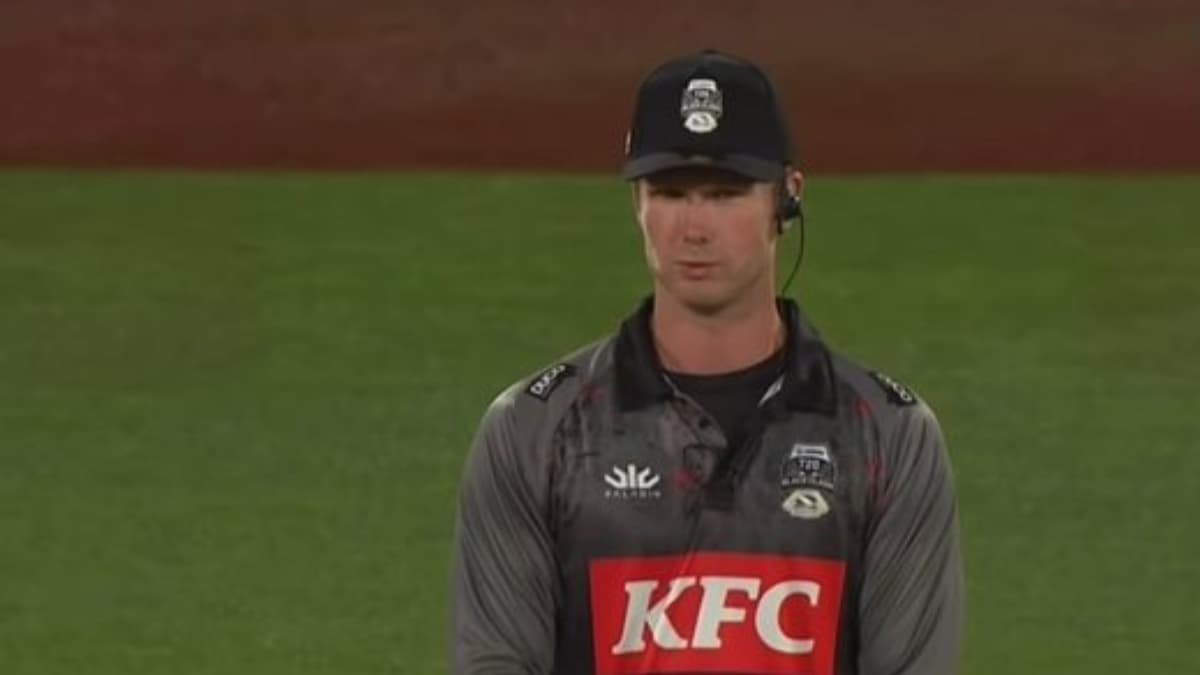 Coming out to bat, Jordan and Ofisa Tonu'u compiled 74 for the opening wicket. It was Nathan McCullum who provided the first breakthrough. Nathan ended the game with 3/20. That was enough to help Team Cricket cover-up after the so many reverse sweeps the opening pair showcased. McMillan and Adam Parore turned back the clock with two in one over. That helped reduce Rugby to 85-3 with Jordan's departure. His wicket leaving Boshier and Jock McKenzie to attempt the rescue mission.
It was Boshier who gained momentum. He ended up hitting three sixes off Jordan Watson. Watson, who seemed to be a clearly wrong pick to bowl, managed to deliver a widish ball. It was slogging at which Boshier was dismissed eventually. The Rugby team slumping to a tricky 134-5. Barrett's late efforts ensured the contest again went down to the final ball. As it did last year, but Vettori's wise head proved the difference in an entertaining spectacle.