The CW Network ended yet another season of The Flash, which is the flagship show now. After the end of an era with ARROW, it was up to the SCARLETT SPEEDSTER to keep the momentum going. Though the show had seen some really high points over the last few seasons, things were up and down this time around.
With the exit and return of some characters and the uncertainty surrounding their future, it was tough to understand how things would end for season seven of the show. But, as the first episode of the show suggested, "Alls Wells That Ends Wells". That was indeed the case, yet again!!
With some tough shoes to fill with the past few seasons, the end to the seventh season needed to be explosive as hell. Godspeed's terror on Central City needed to have a brilliant end and though there may be mixed reactions to how things went down, the fans loved what they saw. Well, in parts at least.
Here are five things from the season seven finale of The Flash that made everyone happy (well almost everyone)-
1- Multiple Stories Within The Crisis Situation
What do you do when there is a crisis at bay? You put in multiple differential storylines to distract the guys from their goal to make things worse. Then, all of a sudden when people are doing sorting their life out, they focus on the bigger picture. At least most of them.
That was exactly what was going on in the show. Whether it was Joe and Kristen Kramer or Allegra Garcia and Chester (romantic angle incoming next season?), their stories continued. Even Killer Frost or Forst (as she likes to be known before I get frozen to death) had her own thing going around to an extent.
Despite that, the award still goes to, you guessed it, AUGUST HEART. The mean-jean baddie, who was at the centre of it all, causing chaos and mayhem. Well, at least he was part of the storyline, actually, GODSPEED was. Anyways, for a second there he had us all fooled. Can he change? Will he? NOPE. (SPOILER ALERT!!)
2- Iris Gets Back Her XS Suit
For the fans of The Flash that don't like Iris, skip to the next part. It wasn't the most pleasant sight to see her part of the fight. But then, sometimes you just got to take it with a pinch of salt. A mother guiding her children to glory.
Well, Iris had her moment and it was good to see her doing more than just standing and talking on the coms. Though, am sure a lot of fans would prefer that it was also good to see her in the XS suit. After all, she was saving her own life and the timeline too. Kudos to Iris for that!!
3- Return Of The Reverse Flash And The Fight With Godspeed
From here, start the best parts of the show. Who would have guessed that Barry would bench his own kids and Jay Garrick at STAR LABS to bring in Eobard Thawne? Wouldn't see it coming, at all. Not a chance. MISS ME? Indeed!! Great move by the writers to have him. It is impossible to have the show without Tom Cavanagh. High time to accept that.
Bringing him back from the dead with the help of Old Nora (The Speed Force) to fight Godspeed. Bright idea and the best way to revive another villain for the next season that could be the last. Giving the writers some credit for sure. Also, since Barry doesn't kill and won't let anyone else do it either, they needed someone more ruthless and that was it.
Plus the battle was good to watch in itself. Whether it was the STAR WARS lightning sabres show (you know what I mean) and brilliant moments in that. Godspeed calling down lightning and eventually the second sabre coming out of his hand instantly to hold back Thawne's, wow!! Just wow!!
Or the eventual fight between the three speedsters (2v1), it seemed really good while it lasted. The logic was brilliant as well (taken in a way from Dragon Ball Z). Thawne doesn't want anyone else to kill Barry (Vegeta is that you?). What a good setup. While it lasted. Repeat after me.
4- Barry Allen Mocks Eobard Thawne (Reverse Flash) With His Maximum Speed
What's a villain coming back from the dead without a few cheap tricks. Well, that was the case with Thawne as well. As soon as Godspeed was down, he was back to being himself. But here came the best part of the finale in my sense for a lot of fans. The scene that made people go OOO and AAA on Social Media and cut out clips and post it for views on YouTube (hahaha, good one).
Just when Thawne wanted to get the better of The Flash, Barry paused time and dodged his punch. That was followed by a one-arm shoulder-throw (some classy Judo skills there). The fear in Thawne's eyes was a sight in itself. He didn't know what hit him or rather dodged him, in this case. Made the fan's day after all. Reminded me of Superman vs The Flash (movie scene in the Justice League). A great sight to recreate that in this scenario.\
5- A Happy Ending For Barry And Iris; No Cliffhangers (That's A New One)?
For the first time since the dawn of time itself, there were no cliffhangers. Had to put that in bold so that people actually believe me. Unless you saw it yourself, you wouldn't. No cliffhangers. A happy ending. Barry and Iris getting married again (a renewal ceremony).
If you don't like chummy stuff, it may nauseate you to an extent. Just kidding. Or maybe not. Well, it was okay to have a happy ending with some of the cast potentially leaving. To be honest, the cliffhanger this time was in the writing, with no actual cliffhangers.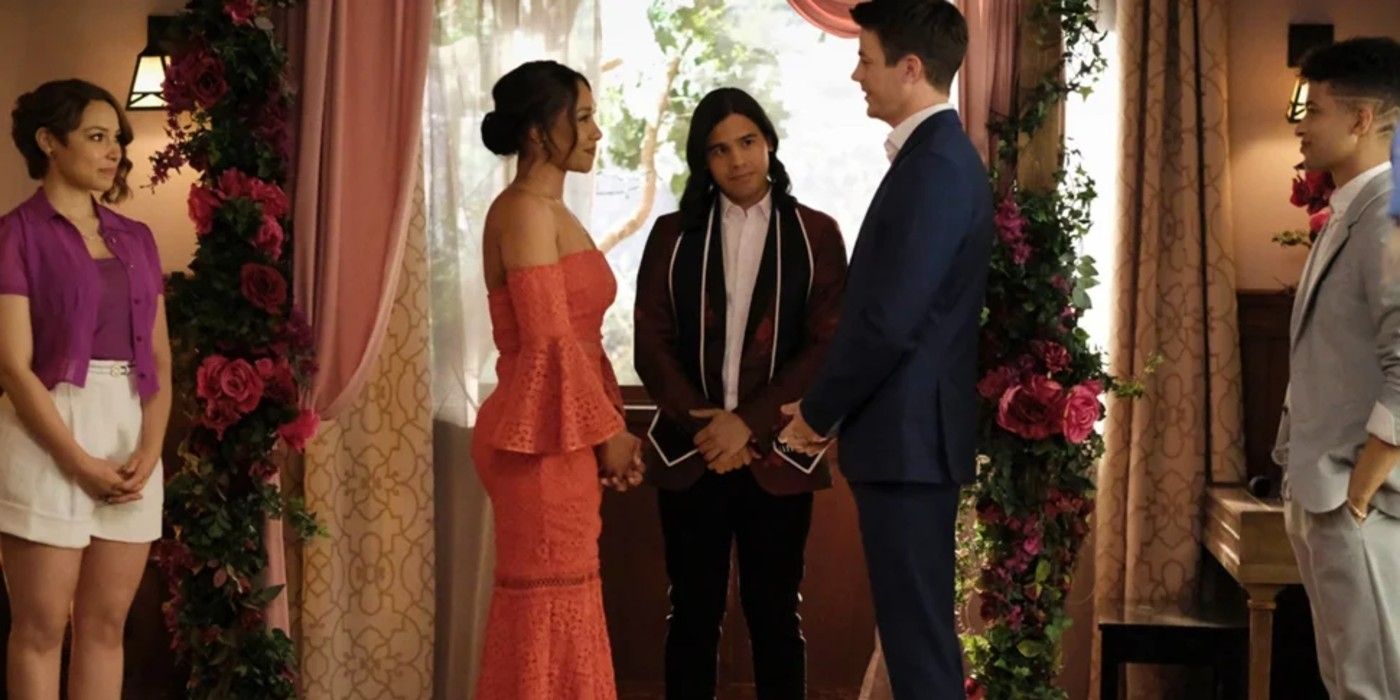 P.S. I use just kidding a lot when I say stuff I actually mean. But still, need to show some respect to the cast and let them have a happy and clean ending. Just kidding!! Okay, use it sarcastically at times too. Hah!!
Overall, The Flash put out a great finale. There are some shows that struggle to make you happy after reaching a certain saturation point. This is not one of them. There might be moments of doom and gloom and Zoom (oops) but it holds its own. Can't wait for season 8!! Hope you enjoy watching it as much as I do. Just kidding!!