Gold medal favourites (and eventual Bronze medal winners) in the recently concluded Tokyo Olympics, the U.S. women soccer team will have two Mewis sisters Kristie and Samantha. Both of them are currently in their prime form as well and are on top of their game. U.S national women team are also on an iconic unbeaten run of 44 straight games. It is the second-longest streak in their team history.
In the last edition of the Olympics which was held in Rio, Brazil, the U.S team had Sam Mewis as an Unused alternate as they lost to Sweden on penalties in the quarter-finals. U.S. women team was denied a fifth Olympic gold in Rio. They already have 4 gold medals in their history which they won in 1996, 2004, 2008 and 2012.
 What The Two Sisters Told NBC Nightly In A Recent Interview?
"I just can not believe that I am going to the Olympics with my sister. It is just surreal." Kristie spoke to News anchor Lester Holt recently in an interview after the U.S. roster was finally announced.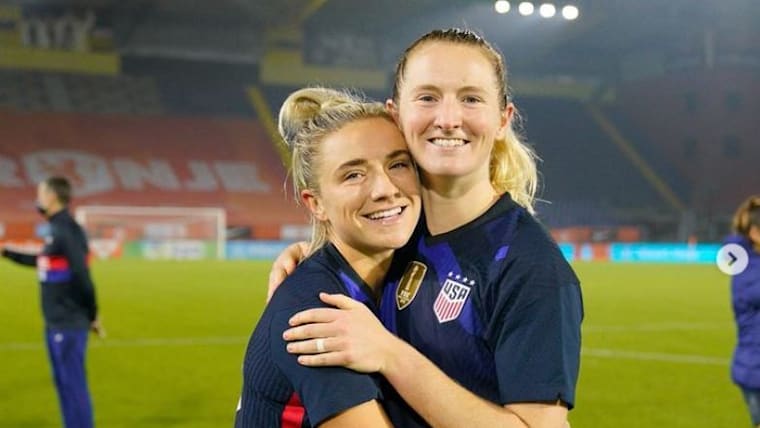 Sam further went on to add, "It seems too good to even have even dreamt up about."
Sam Mewis helped the Americans to win the Women's World Cup in 2019 as she was a dominant force in the US midfield. She already has 23 international goals from midfield with nine assists in 77 appearances, which is a remarkable achievement. Took a one year break from the US Women's Soccer League to play for Manchester City in England last season. She was named U.S. Soccer's 2020 Female Player of the Year and just won an ESPY for her sport.
The Inspirational Story Of These Two Sisters Playing At The Top Level In The Tokyo Olympics
Samantha's sister Kristie Mewis is also a midfielder. She has now fully recovered from the ACL tear she had in 2018. Kristie was named MVP in the Houston Dash team in the NWSL team in 2020. Then, she was recalled to the national team.
The US beat Mexico 4-0 recently in an Olympic tuneup game in Hartford where everyone saw how dominant the team could be when both the Mewis sisters play together in midfield. Kristie set up Sam in the 21st minute for the first-ever sister-assists-sister goal in USWNT history. In all, the Mewis sisters have scored or assisted on 11 of the team's 37 goals in 2021 with Kristie now up to four goals and 4 assists in 26 career caps.
Kristie Mewis acknowledged that losing her place on the national side due to injury gave her a wake-up call mentally. In a recent interview on Zoom, she said, "You do lose a lot of your self-identity. Lose a lot of self-confidence. Was OK being average for a couple of years here and there. Had some injuries as well. I lost a lot of confidence. Lost a lot of belief in myself. Tearing my ACL was actually in a way a blessing in disguise. It woke me up a little bit. Made me realize, 'Kristie, what are you doing? need to come back from this. You are missing out on your dreams. Being OK with being 70-80 percent (of what you could be) and that wasn't just it.'