Barcelona has had its problems in recent times. Most of the issues have been because of the financial situation of the club. Manager Ronald Koeman has been trying his best to turn things around. Though the situation has improved at present, things are still far from sorted. Keeping that in mind, the team is playing better football now.
However, Koeman doesn't have complete control of how things will go. Not just on the pitch, as it seems that it could be the case on Social Media as well. Recently, an incident happened that got the Barca fans talking about their boss.
The Incident That Happened On The Twitter Account Of Ronaldo Koeman And How He Responded Addressing It
Ronald Koeman is still trying to gain control of this Barca team, with all the different things that have been going around the club. They have seen their ups and downs in recent times. The departure of long-term skipper and talisman Lionel Messi hasn't helped them either. The Catalan side has been trying its best to improve and regain the momentum that once made Barca the most dominant club in Europe.
However, it will be a long process and things are just not there yet. Keeping that in mind, the Dutch manager is trying his best to implement his philosophy into his side. There has been some progress now, though the job is far from done.
With that being said, his Twitter posted a funny Tweet recently-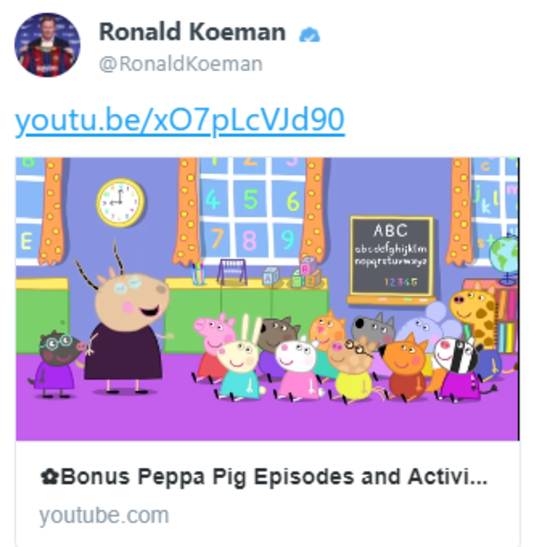 It was funny to see this on the timeline of the Barcelona manager. (Initially and this is just me, I thought he had started to endorse a kid's product now!! Haha!!) Well, it was a mistake that Ronald Koeman eventually addressed.
What Had Actually Happened And The Explanation The Dutch Manager Gave About The Post
It was his grandkids!! Ronald Koeman deleted the original post and sent out a Tweet accepting that his grandkids had put out this post. They were playing around with his phone and had sent that video out. It was just forgotten quickly, as some of the fans on Twitter had already guessed it ahead of time.
Sometimes the little ones of the family want to make themselves heard via granddad's social media account ??? #grandchildren #peppapig pic.twitter.com/JoasgDQd2h

— Ronald Koeman (@RonaldKoeman) September 5, 2021
This was definitely cute and all is well that ends well. (Otherwise, he might have been endorsing baby products next. Haha!!) Things were handled and it was back to business for the Nou Camp side. It's high time that the team focuses on football and things related to the pitch.
Such Social Media posts are just time-passers for the fans, who are bored due to the international break. However, with no club football and the grandkids having fun, who can blame them for doing what they do best, talk. Social Media erupted to an extent watching the post and the talks died down slowly.
Eventually, Ronald Koeman needs to produce results on the pitch. Footballers have done way worse than just put out such videos. So, things are in control and there are more important matters to be addressed. Whether the Barca boss can do that or not, remains to be seen!!