Roman vs Corbin: The rivalry between Roman Reigns and Baron Corbin has been getting a lot of negative reaction from the fans in social media. WWE has done everything to make this feud as weird and non-sensical as possible with the introduction of dog costume and dog food. The duo had a Tables, Ladders, and Chairs match at TLC this month, which resulted in Corbin winning with the help of Dolph Ziggler and The Revival. On yesterday's episode of SmackDown, Roman again attacked Corbin to show that this feud is far from over.
Now, a recent advert announced that this rivalry will go on at least till February 14's episode of SmackDown. The Blue Brand's taping for February 14 is going to take place at the Rogers Arena in Vancouver, Canada. The venue's official website has announced a double main event for the show.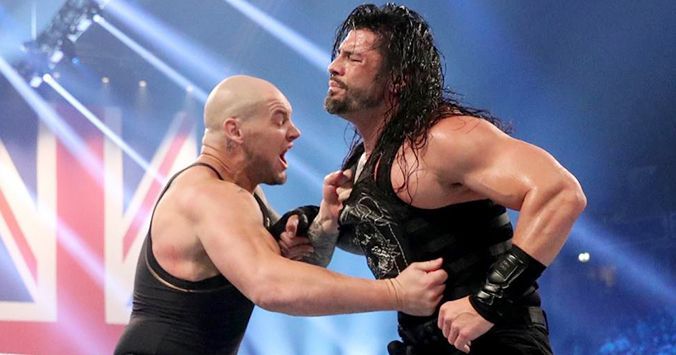 The first one is Daniel Bryan taking on Bray Wyatt for the Universal Championship, and the second one is Roman Reigns and Baron Corbin taking on each other in a "Loser Eats Dog Food" Match.
Last month, Dave Meltzer had reported that Roman and Corbin are going to wrestle with each other in a 'Dog Collar' match at TLC. That never happened, but Corbin kept on mocking Roman's 'Big Dog' gimmick throughout the build-up. So, "Loser Eats Dog Food" Match is not off the table considering their storyline.
SmackDown Tag Team Champions The New Day, SmackDown Women's Champion Bayley, Braun Strowman, Sasha Banks, Intercontinental Champion Shinsuke Nakamura are also advertised for the show.
It is worth noting that the match card can always change and arenas always advertise such matches in advance to generate fans' interest in the show. More often than not, these matches never go as planned.
In other news, it was made official in last night's SmackDown that Daniel Bryan is going to challenge The Fiend at Royal Rumble next month. He defeated The Miz and Baron Corbin in a triple threat match at the show to earn the opportunity. At first, the match was only going to be between The Miz and Daniel Bryan but Corbin's bodyguards interrupted their match and Corbin later made a case for his inclusion stating that he defeated Roman at TLC, so he deserves a title shot. The match was then made official and they wrestled in the main event of the show.
Daniel Bryan had earlier wrestled The Fiend at Survivor Series in November in a losing cause. Both have a lot of history between them as Bryan once was part of Wyatt Family. The Fiend is undefeated at the moment. Since his return, Bray Wyatt has wrestled in five matches and has easily defeated his opponents in four of those matches. At Hell in a Cell, he was the victim of a bad creative decision.
According to the current planning, The Fiend is going to be undefeated at least till WrestleMania 36, where he is rumoured to face Roman Reigns. This could mean more victims and only time will team whether Reigns will be able to even beat him or not. The result and response of the Roman vs Corbin match could also prove to be the deciding factor for the decision.