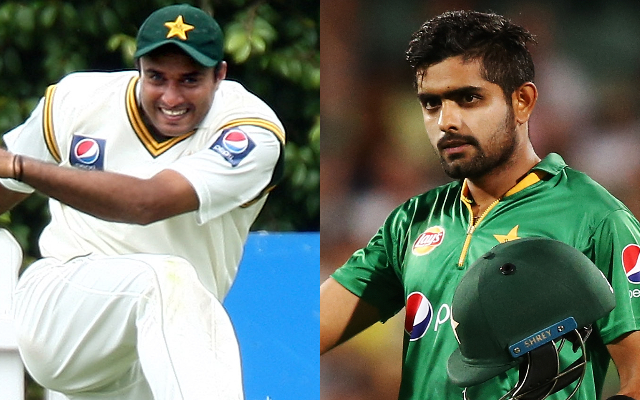 The Pakistan Cricket Team's star batsman and newly turned limited-overs captain, Babar Azam has been phenomenal with the bat in the past few seasons. He has been consistently scoring runs in the last few years. Many people are even drawing comparisons between him and Virat Kohli. Babar has an excellent batting record in the current era, and hence many pundits of the game consider him one of the best batsman in modern cricket.
Babar has been the talk to the town in recent times. He has been in good form and the fans can't stop talking about him. Even during this lockdown, the number of fans that admire him are growing, day-by-day.
Tanvir Ahmed asks Babar Azam to improve his English speaking skills
Recently, former Pakistan fast bowler Tanvir Ahmed created controversy when he tried to give a piece of bizarre advice to Babar Azam. Tanvir praised Babar for his batting skills and performance. However, he asked Babar to change and improve his overall personality.
Tanvir even asked Babar to improve his English speaking skills after he became the limited-overs captain of Pakistan. The fans trolled Tanvir mercilessly for this type of suggestion. His suggestion created a lot of controversies.
"Babar Azam also needs to improve his English, which is necessary. Whenever someone becomes a captain, he has to talk during the toss and post-match presentation. Plus, he will also give interviews on various channels when he tours different countries," Tanvir said in his YouTube video.
Babar Azam responds to his suggestion, not happy?
Babar has now responded to Tanvir Ahmed's suggestion, with a comment of his own. He said that his primary role is to focus on his cricket. However, he also said that he is working on his English speaking, and this learning process will take time. He said that he is not an Englishman that he will suddenly learn English in a day.
PakPassion Editor Saj Sadiq quoted Babar Azam as saying, "I am a cricketer, my job is to play cricket. I am not a 'Gora,' who knows English completely. Yes, I am working on it, but you learn these things over a while, you can not just suddenly learn it."
This was a subtle response to the comment that was made. However, we all know that Babar Azam didn't really like what was said.
Babar believes in an attacking captaincy like Imran Khan
Babar also revealed his feelings after he became the captain of the Pakistan team in the limited-overs format. He feels optimistic about the future of the Pakistan team in limited-overs. He feels honoured to lead the Pakistan side. Babar also said that he will take advice from Misbah and other senior players in regards to captaincy. He also said that he believes in an attacking captaincy like Imran Khan.
"It is an honour for me to captain Pakistan in ODIs as well," he said. "I take advice from Misbah Bhai and senior players with regards to captaincy. It is not easy to lead Pakistan side but I will try my best to ensure the team produces good results in ODI and T20I cricket. I believe in attacking captaincy like Imran Khan," Babar said.
Well, Babar is a new age star and the team and the fans have a lot of hopes from him. They know that he has the qualities to be a legend. Their hopes lie in the fact that he can deliver long-term. If that is the case, it will be great for Pakistani cricket, which has seen it's ups and downs in recent times. More of the downs, rather.
They will be hoping to lift another title in the upcoming years. Cricket in Pakistan is going through a transitional phase at present. It will be interesting to see how things develop now. Babar Azam is one for the future. However, whether he can actually make things happen or not, remains to be seen. Only time will tell.