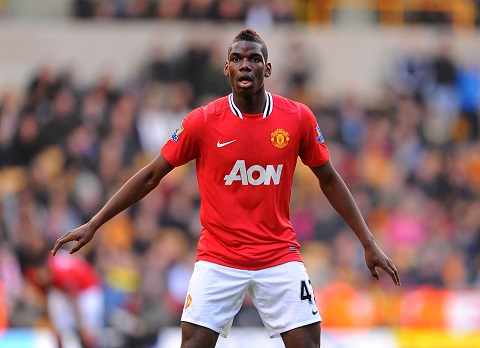 Is the France World Cup winner going to quit Manchester United after just two seasons? There are lot of speculations about Red devils midfielder Paul Pogba. Few British media have stated that this might be due to his fallout with former Real Madrid manager Jose Mourhino earlier last season. To add more fuel to the fire the Frenchmen's star agent Mino Raiola was spotted in Barcelona last week as he held a meeting with the Catalan clubs hierarchy and he may have offered the 25 year old to the Spanish giants, Italian media outlets have now claimed that Juventus are also monitoring the situation of the France international and may as well be open to the idea of resigning the midfielder whom they sold just a couple of seasons back for then world record fee of €105m.
The Turin based club have already caught many of us off guard by signing one of the best players in world, Cristiano Ronaldo has shook the footballing fraternity after having spent 9 seasons in boyhood club Real Madrid. Juventus after having pulled out a major transfer this season are looking to get their hands on the ultimate prize the UEFA Champions League. The Bianconeri last won the coveted title way back in 1995 beating Dutch side Ajax on penalties and have since then failed to lift it even once after coming close 5 times in 22 years and only returning with a runners up medal.
Manchester United are not at all prepared to lose one of their star player and will pretty much not be interested in listening to any offers no matter how enticing it would be at least for the time being. The former Juventus players value would have certainly increased considering the recent heroics of his nation in biggest stages of them all the FIFA World Cup.
Barcelona have also shown an active interest in signing the 25 year old holding midfielder and if the player himself decides to leave  then there is pretty much nothing Manchester United can do about it. The Catalans are expected to be in the market for a world class midfielder after the departure of club legend andres iniesta and are considering to make a move for the Frenchmen to replace him and Juventus want to challenge for all titles next season and adding Pogba will give them much needed boost in the midfield and considering the attacking options upfront the Old Lady will be the side to beat next season but FFP may come in the way of the deal as the Serie A holders have just signed Portuguese international Cristiano Ronaldo for a whopping €105m they might have to sell a few players first before they put in an offer for Pogba.
Manchester United, as I said will not entertain any offers for the player but an offer worth €150m will be tough to reject and it remains to be seen if either of the club manage to land him. Pogba and Mourinho did have some problems in the previous term and it could see the Frenchman leave.