The end of the season drama is still on the plate. According to recent news, giants like Barcelona, Manchester City are still chasing their targets, a big name like Mino Raiola got banned for this window and these headlines are trending still. Among all these chaotic noises, Chelsea came up with one when under the influence of club legend and newly appointed manager Frank Lampard, Callum Hudson-Odoi, Chelsea's golden boy, signed a contract renewal.
Odoi's future at the club was uncertain for a long period. The English youngster was heavily linked with German giants Bayern Munich for a long time. According to many reports, Bayern's executives even secretly met him and his family members to get his signature on the papers.
Odoi on the other hand, due to being at Chelsea since his childhood, gave his club chances to prove his second thoughts wrong and it was where Chelsea failed badly in the beginning. The then Chelsea manager Maurizio Sarri stick with Eden Hazard, Pedro and Willian as Chelsea's preferred wingers and just kept on saying that Odoi needed to improve despite giving him enough chances to prove himself on the pitch for his team.
In the second half of the season though, Odoi started to get his deserved chances. His playing time surprisingly increased mainly because of those ongoing rumours and most probably also because Sarri was pressurized by the board.
Odoi showed some really promising signs before he got injured which ended the season for him. During this transfer window he was again linked with Bayern, but this time Lampard convinced him to stay.

Callum is a canny young man who is very sharp and confident with the ball. With Hazard on the left-flank, Odoi used to play on the right side, but unlike cutting inside like Eden, Callum used to stay wide. He is more prone to play smart one-touches outside the box and only willing to take a defender all by himself only when it is needed to, otherwise, just like an experienced winger, he tries his best to find a passing option first.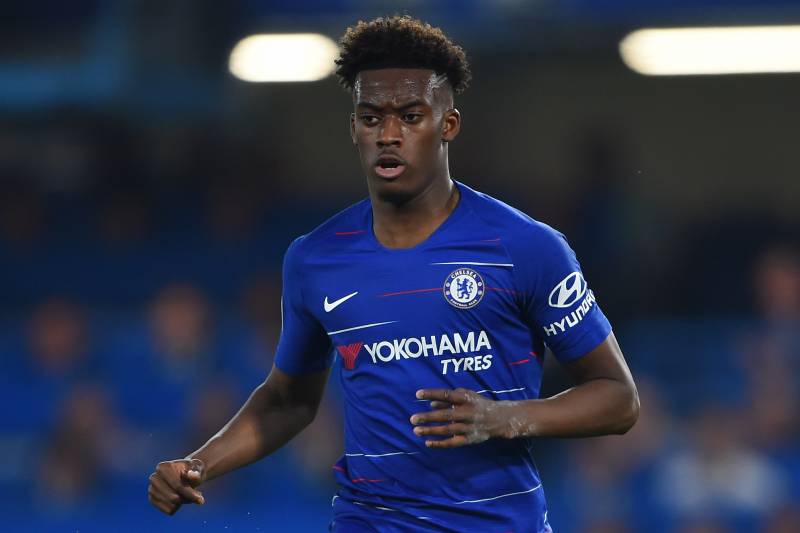 Odoi would be a treat to watch under Frank, mainly due to the latter one's tactics. Frank urges his players to press high up and disposes of opposition as quickly as possible and then the storm of counter-attack follows.

With Christian Pulisic in the squad, Odoi is more likely to be placed as a right-winger again. Unlike last season, Odoi might require to stand as close as possible to opposition's box. Lampard's system contains an attacking midfielder that mainly connects the wingers; so Mason Mount or Ross Barkley will be important in determining Odoi's quality of performance in each game.
Frank's formation favours well-paced, goal-hungry and determined youngsters upfront, so Odoi is much more likely to be in the playing ahead of Pedro and Willian, once the 18-years-old becomes fit. Chelsea have lost Eden Hazard, but they might be on their way to see witness a new Stamford Bridge hero as it is well known that Callum Hudson-Odoi has got everything required to reach to the top!