Former Chelsea boss Carlo Ancelotti who managed the Blues in 2009-2011 and guided them to a successful double in his first managerial season in London, could have possibly missed his return to Stamford Bridge. The current Everton boss was sent off during the match between Everton and Manchester United which resulted in a 1-1 draw, which had caused a touch-line ban for the next match.
Carlo Ancelotti was angered by the decision of VAR after Everton's last gasp winner was ruled out. The Italian said he never disrespected him but only wanted a clear answer to that decision which could earn his side three points.
His statement read after the game, "I asked for an explanation after the game. There was a misunderstanding on the pitch and he sent me off. After that, I spoke with him calmly in the dressing room. I want to keep our conversation private and now he will make a report for the FA and we will see."
"I did not disrespect him but I can understand because, for the referee, there were a lot of important decisions at the end of the game. But I did not disrespect him. It was a difficult decision because they checked the position of Gylfi, and it was offside, but in our opinion, it did not affect the vision of the goalkeeper. In their opinion, it affected the vision and movement of the goalkeeper."
"It is not the first time and will not be the last. I never disrespected him. It can happen. At the end of the game, I was a little bit nervous and maybe the referee was also. At the end of the game, we spoke friendly. If I am banned, I will be disappointed but the stand at Stamford Bridge [where Everton visit next weekend] is near the dugout so I will be there."
Manchester United boss Ole Gunnar Solskjær though was not sure about the rule which saved his side from a loss and also defended De Gea after his error that led to an Everton goal in the match. 
"I trust David 100%," Solskjær said. "He knows, but the way he made amends at the end and saved Sigurdsson's shot shows why that, for me, David is the best goalkeeper in the world. He went through a difficult patch last season but he has been very good this season. I can not remember any other mistakes this season apart from the Watford one."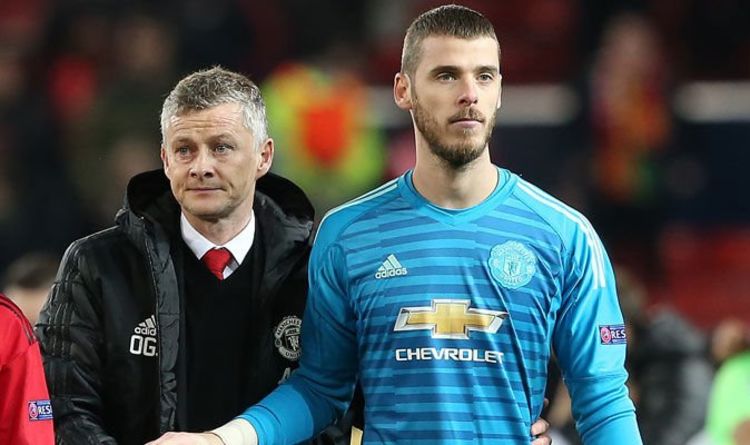 Well, it seems Ole has missed a lot of errors or just does not want to highlight what his keeper has been actually doing. The Red Devils have dropped a lot of points this term due to his errors.
Carlo Ancelotti further added that he will still visit his old club where he managed 10 years ago, "If I am banned I will go in the stand at Stamford Bridge."
"I have to speak but it is not a big problem if we prepare for the game well."
Eventually, the ban as lifted and Ancelotti managed his side from the touch-line. However, his team's performance was one of the poorest ones this season. They were totally outclassed by Frank Lampard's Chelsea side and lost 4-0.
The result was really embarrassing and nearly ended any hopes that they might have had of a top-six finish. It will be interesting to see how the former Napoli boss turns things around now. However, VAR once again turned heads and the critics just another point to raise their claims against its use.