Former Chelsea striker Alvaro Morata is certainly not having a great season at Atletico but he scored the winner against Liverpool in the Champions League round-of-16. In the second leg, Atletico Madrid defeated Liverpool 3-2 to reach the quarter-final of the competition. Morata though had earlier hinted that was going to happen.
Last November in an interview he said about the possibility of facing Liverpool in the Champions League, "Liverpool may play against Atletico and may not reach the Champions League final."
"You never know. This is football; every team has their methods and we play our football."
As things stand, because of the Coronavirus outbreak, all the leagues across Europe has been suspended till next month and it is yet to be decided that Champions League this season will be happening again or not. However, the joy of watching the Reds being knocked out of Europe's top competition is surely great.
Chelsea signed Morata from Real Madrid to replace Diego Costa in a club-record 55m pounds in 2017. He spent two seasons in London and managed to score only 24 goals in 72 appearances for the blues. That was a poor statistic to show if you are a first-choice striker for a club like Chelsea. Antonio Conte was the Chelsea boss back then who won the Premier League trophy in his first season in charge. In his second season at Stamford Bridge, he decided to sell Costa who was one of the reasons that won him the league and replaces him with Morata. It was a failure of a decision at the end as Morata continued to struggle for goals.
On Wednesday night he did something to remember as he found the net on a crucial second leg tie and celebrated with passion. It is always a good thing to see footballers showing passion for the game and Atletico fans must have enjoyed it very much. That celebration though has raised some critics from the former Manchester United player Rio Ferdinand.
Well for a United man it should have been enjoyable to see Liverpool getting knocked out of the Champions League but he said the opposite. Rio further added that "I wish he had shown that passion while he was in England."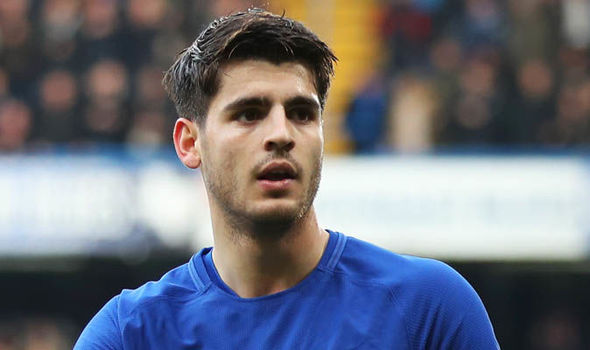 Alvaro Morata is not having a terrific season for Diego Simeone's side too. He has only found the net eight times so far in La Liga despite being their first-choice striker at the moment in the absence of Diego Costa and João Félix. Recently he was in a nine-game goal drought in the Spanish first division but he finally managed to find the net last weekend, thanks to VAR.
Some of the Atletico Madrid fans showed negative reactions when they decided to sign him from Chelsea in 2019 in a £50m transfer fee. Morata struggled in England in his two seasons and is still struggling to get his best form for his boyhood club Atletico. Simeone's side are currently sixth in La Liga and 13 points below their rivals Real Madrid who are at the top.