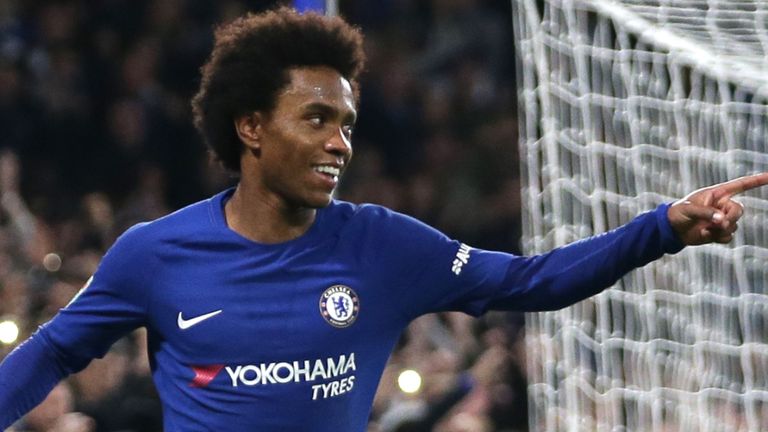 La Liga champions Barcelona  are said to have offered £38m plus Malcolm for the service of 30-year-old Brazilian, who has been linked with a move to the Camp Nou in the past. This is the second offer that came from Camp Nou to Stamford Bridge for Willian, the previous one being a cash worth of €55m. Willian is now 18 months away from a free transfer and seven months away from turning 31 and this could be the moment Barcelona get their man.
Malcolm, a 21 year old Brazilian signed alongside Arthur Melo were shown to be a part of the future for Barcelona. But though Arthur got up the ranks, Malcolm was left out as an unused substitute in most of the matches. Malcolm hardly has managed just 100 minutes in La Liga so far this season.  Barcelona are keen to offload Malcolm, who has struggled to impress following his summer move from Bordeaux and missed two quality chances in his team's Copa del Rey loss to Levante on Thursday. The Blaugrana made moves to sign Willian over the summer but when the Premier League side weren't forthcoming, The Catalans ended up landing Bordeaux's Malcolm instead.
The Blues' boss regards Willian as a key player of his present squad, though is still looking to strengthen this window rather than letting the first-team regulars leave. Despite Maurizio Sarri's hatred of the transfer market and distrust in most things around the buying and selling of players, it looks as if Chelsea are going to be busy this month. A series of offers from Bayern Munich have been rejected by the Londoners, for the services of 18-year-old winger Callum Hudson-Odoi, who is keen to move to the Allianz Arena Now, Barcelona are coming around to seal the services of this veteran is something to look for.
Reports across England also suggest that if the Blues can offload Morata there is a chance that Gonzalo Higuain can be reaped on from AC Milan on loan till the end of the season. Higuain is on at the moment on loan with the Rossoneri, after being sent away from Turin by Serie A champions Juventus.
The attacker has managed to score just a single goal for Milan since October. The 31 year old Argentine international has been linked with a move in the winter transfer window, with Chelsea reportedly keen to bring him to England to resolve their issues up-front.
A swap deal involving former Juventus striker Alvaro Morata, the Spaniard who is out of favor at Stamford Bridge, has been mooted. The Italian manager has previously worked with Higuain during his record-breaking campaign at Napoli back in 2016. He has always had great admiration for the striker and would like to work with him again now. Previously Sarri has excelled with Jorginho too, a player who  is central in his game-play and the two could link-up well for the English giants.
AC Milan director, Leonardo says Higuain has to make up his mind about whether he wants to continue his career at San Siro or go elsewhere. Should Alvaro Morata be loaned out with Sevilla being the probable candidate, Chelsea will have to pay in the region of €40m for his services due to his complicated loan situation.
Have the west Londoners missed out on a big-time opportunity to cash in on their Brazilian winger, which could have possibly led to more deals happening in the New Year?