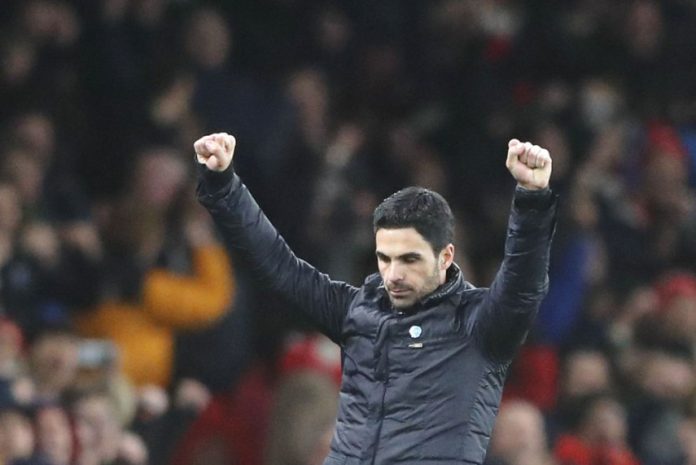 Mikel Arteta's Arsenal finally found winning ways in a wholesome 3-1 rout of Frank Lampard and company. Alexandre Lacazatte, Granit Xhaka and Bukayo Saka found the net for the home side. That is, with the Gunners scoring three goals in a match for the first time since their 2020 season's opening day victory against Fulham.
The scoring started when Alexandre Lacazatte converted Reece James' foul into a goal from the spot in the 34th minute. The next goal was also a dead ball maverick by Arsenal. Granit Xhaka shot a bender into the top right corner to justify his selection. 
He managed to earn the tag of being the best free-kick option Arteta had got. Bukayo Saka in the 56th minute scored a touch goal coming off the assistance of Rowe. Tammy Abraham became the lone scorer for Chelsea when he managed a late goal. 
🗣 "Not good enough, the players have to take the responsibility"

Frank Lampard vents his frustrations with his team in his post-match interview pic.twitter.com/Rw0JJjJkkJ

— Football Daily (@footballdaily) December 26, 2020
Only Talent Can't Win Games For Chelsea
No doubt Chelsea can be declared as one of the most talented sides in the 2020-21 season. Stamford Bridge cradles a dynamic attack, a rock-solid bench and variety of skills to stun Europe with. However, time and again the side fails to draw up a favourable result, whether it was versus West Ham last week or against a freshly wounded Arsenal on Sunday. So, Lampard does get full points for building a talented young side, but still seems far from winning the title. 
Putting Arsenal Boss Mikel Arteta Down Was A Big Mistake
Coming into the game with the weight of a four-game winless streak that included two heavy losses in the last two matches, many fingers pointed blames towards Arteta. However, the Spaniard answered a few questions during an emphatic victory over a quality side. 
Gunners missed a few regulars, the pressure on the defence was immense but the home team held their nerves till the end, denying Chelsea's attacking line any clear chance during the 90 minutes. 
Arteta post-match reaction. pic.twitter.com/TyktpVuToF

— Eduardo Hagn (@EduardoHagn) December 26, 2020
What Is Wrong With Timo Werner And Chelsea's Midfield Combinations
'Too many cooks spoil the broth' and too many midfield options make a mess. Having Kai Havertz, N'Golo Kante, Jorginho, Kovacic, Mason Mount and Christian Pulisic running for the three midfield slots has created a jumbled palace in front of Frank Lampard. No single player was getting a full-fledged venture at the field making depth sound like a disadvantage for Lampard. Kai Havertz has not been hitting the ground running. Even with the ball to his feet, the former Bundesliga star seems lost in between defence lines. 
Timo Werner came with a big promise against his name. A 24-year-old who could typically sideline an ageing Oliver Giroud. It is Werner's continuous failures that have made Giroud an even more important part of the squad. Starting in the wing against Arsenal, Timo Werner seemed neutralized from the very first whistle. Not only did Chelsea managed only three attempts on target, but also failed to draw pressure on Leno. 
🗣 "We let ourselves down"

Callum Hudson-Odoi's reaction to Chelsea defeat to Arsenal pic.twitter.com/UBPkO2QsK1

— Football Daily (@footballdaily) December 26, 2020
What Does Arteta Have In Mind For Aubameyang At Arsenal?
The regular Gunners skipper Pierre-Emerick Aubameyang was benched for the Chelsea game. Youngster Gabriel Martinelli preferred in attack. While Aubameyang has managed only three goals in the Premier League so far, his involvement in a game with such high stakes was inevitable. However, with Chelsea letting in easy goals, the Arsenal boss didn't really need him.