CM Punk continued his role as the special contributor and analyst for WWE Backstage on the Fox network. This was his second proper appearance on the show. Punk set the whole internet on fire when he first appeared on the show in its 2nd ever episode to close the show as no one expected him to get even remotely close to WWE. Technically, he is a FOX employee but watching CM Punk discuss WWE's storyline in 2019 is just surreal.
It has been made pretty clear by the Best in the World that he is not going to just compliment the WWE irrespective of its storyline. He is going, to give his honest opinion and that is what he is doing till now.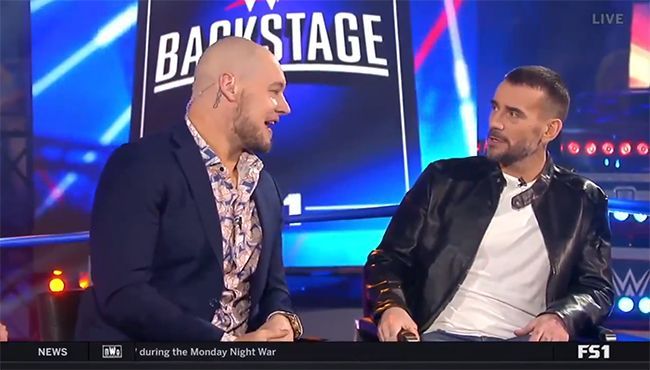 Here is everything you need to know about this week's WWE Backstage:
-Punk didn't hate the Roman Reigns and Baron Corbin's dog food segment. He said that bad guys need to do bad things to get heat from the crowd. However, both Punk and Booker T wanted it to be a bit more realistic like where did the dog food come from and what brand it was.
-Baron Corbin was this week's guest on WWE Backstage. He is going to face Roman Reigns at this Sunday's TLC in tables, ladder, and chairs match. On the show, he said that he loves being a heel on TV and upsetting the people. Booker T said that he has not heard the boos like what Baron gets since Vickie Guerrero. Corbin then said that Kurt Angle's son flipped him off after he defeated his father at WrestleMania 35. He is aware that his job is to get babyfaces over.
Corbin went on to say, "What I am doing on television is not that far from who I am in real life. I am not anywhere to make friends." He believes wrestling fans are easy to trigger and thus it makes his job as a heel easier. Punk then said that Corbin has thicker skin "than some people we have had on the show." Baron Corbin revealed that they used real dog food in his segment last week.
"It was 1000% real dog food." – @BaronCorbinWWE #WWEBackstage pic.twitter.com/bXSRFi6QeG

— WWE on FOX (@WWEonFOX) December 11, 2019
-About his appearance with The Rock on SmackDown's premiere episode on FOX network, Corbin said that it was a special moment for him and he believes that he was able to hang on his own.
-Punk then recalled having a 55-minutes long match with Chavo Guerrero at a house show due to the late arrival of the rest of the talents.
-It was then revealed that The Raw tag team champions, Viking Raiders will issue an open challenge for the title on WWE TLC this Sunday. The champions defeated Street Profit on this week's Raw after the latter accepted the former's open challenge.
-Talking about Miz vs Bray Wyatt, both Paige and Punk agreed that they do not want red lights in the match.
Now we want to see @CMPunk's entire plan for @LanaWWE & @RusevBUL happen. #WWEBackstage pic.twitter.com/xHs6g7CNHI

— WWE on FOX (@WWEonFOX) December 11, 2019
-Punk would book Bobby Lashley to leave Lana down the line to book the team of Lashley and Rusev. Lana would then bring a new team to challenge them. Then he would book 'Lana in a shark cage' match at WrestleMania, where the losers will get Lana because everyone is sick of her.
WWE Backstage is broadcasted every Tuesday on FS1.