Former Chelsea player Craig Barley has warned the fans not to hype the American youngster (Christian Pulisic) at the moment. The 21-year-old joined the Blues last summer in a £58m move from Borussia Dortmund. He was regarded as 'Captain America' among the Chelsea supporters when he arrived. The first half of this campaign has not been great for the youngster because of the injuries.
What Craig Barley Said About Pulisic-Hazard Comparison?
"They should take their heads out of the sand. Eden Hazard carried Chelsea for a long time and got his move to Real Madrid. He is a multiple league winner and a hugely talented Belgian international. In the end, he was coveted by arguably the biggest club in the world – Real Madrid."
Pulisic has scored eight goals and provided six assists so far this season. Three of those eight goals have come after the lockdown. The American International is in red hot form at the moment which has raised arguments of comparing him with Blues legend Eden Hazard. Burley believes that it is too early to do that as there is a level of consistency needed at the highest level to match Eden Hazard's contributions to Chelsea.
What He Further Said?
"It is typical of the rationale – trying to compare people too early. Christian Pulisic is a huge talent, but he is a young man. There is no guarantee that comes next season with all the new players coming in that he will get all the game time he needs.
"All he needs is two or three quiet games, and any manager worth his salt will have Hudson-Odoi in, or he will have Werner on the left, or Mason Mount."
"I think we need to go slowly with Christian Pulisic, it is a learning curve for him, he is doing great at the moment, but you can not compare him to a player who literally carried one of the biggest teams in the Premier League for a few seasons."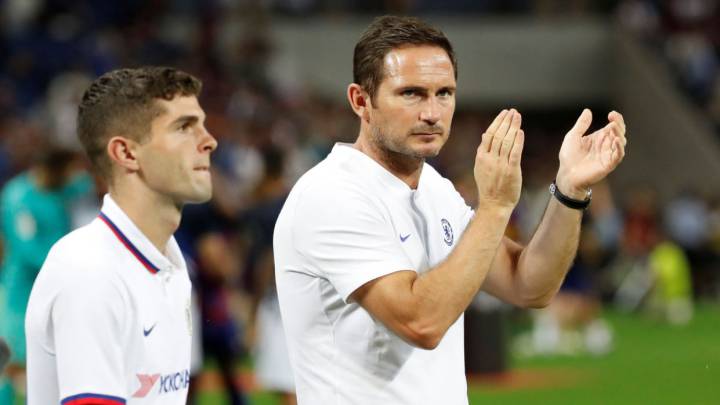 With the 3-2 victory at Selhurst Park against Crystal Palace, Chelsea was up to the third position in the Premier League table. However, they are only one point above fifth-placed Manchester United. They are on a 16 games unbeaten run at present. The Blues can't afford any more slip-ups in the last two remaining games in the league.
This is if they want to qualify for the UEFA Champions League next season. Lampard was asked about the momentum that Chelsea has at the moment. It was in a recent pre-match press conference. This was ahead of their fixture against Sheffield United.
What Chelsea Boss Frank Lampard Recently Said?
"No I do not, it is easy to bring up momentum and I probably have done because I have been asked about it a lot. But I do not fully believe in it, I believe in the next game that comes."
"So even though we have had some good results of late generally, you are only as good as your next game, that is the important one in front of us, so we are in charge of our own destiny on that side of things.
"So we are not reverting back to previous results we're looking to Sheffield United and onwards."