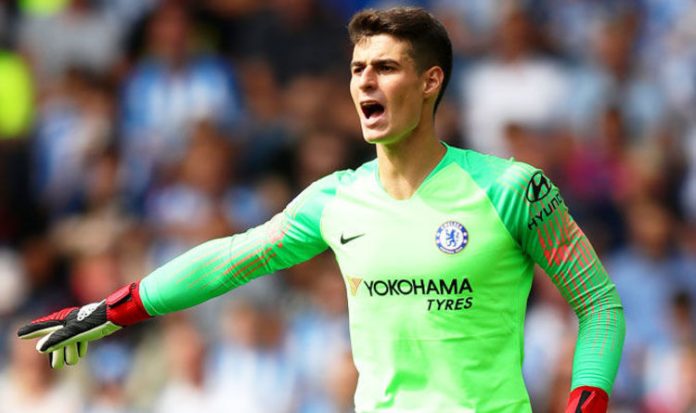 The Kepa Story- Reports in England claim that soon to be Chelsea star Hakim Ziyech is eager to reunite with his current Ajax team-mate Andre Onana at Stamford Bridge. Ziyech agreed to join the Blues in a £37m deal in January and is set to officially link up with Frank Lampard's team in the summer after spending the second half of the season with the Dutch champions.
He is believed to be looking forward to teaming up with Onana at his new club as well. The Ajax goalkeeper has been linked strongly with a move to the Premier League with both Chelsea and Spurs keeping tabs on the Cameroon international.
Ziyech believes that the 23-year-old keeper would follow him to West London rather than the north of London. Spurs boss Jose Mourinho is reportedly looking for a keeper that can provide some serious competition to Hugo Lloris between the sticks.
The World cup winner with France has received severe criticism for his performance against RB Leipzig in the Champions League after the north Londoners crashed out of the last-16.
It is expected that a new keeper will be among the priorities of Mourinho in the summer. The Lilywhites registered their interest in Onana last summer as well and are believed to be keen on continuing their pursuit.
Meanwhile, Chelsea boss Lampard is also said to be on the lookout for a shot-stopper despite Kepa Arrizabalaga's recent return to the first team. The most expensive keeper in the world was dropped to the bench after a series of disastrous displays in goal and was replaced by veteran Willy Caballero.
Lampard, though, claims he is not actually looking for someone to replace the Spain international ahead of the summer transfer window. The Chelsea boss said this about Kepa, "I have read a lot of false articles, probably guessing on players.
"Every time I see a Chelsea player put on the shirt they are in control of their own destiny somewhat individually. You can't always control collectively the result. All I am focusing on is game by game to get the best finish to the season that we can possibly get.
"Then of course, there are decisions for the club ongoing in the summer, we have to look at that. But no way am I jumping forward to the future now and a lot of those reports are wrong."
The fact still remains that the Spaniard had found his form in recent weeks and looked much better. He had regained his first-team spot and was looking like a leader once again. However, his attitude has always been a problem, which was also seen during the times of Maurizio Sarri.
He is a bit too emotional and gets carried away. Due to this, there was a story about a rift between him and Frank Lampard, though that did not seem to last too long. With that being said, if he is not really consistent, then the manager might be forced to look for other options or at least bring in another keeper, to compete for a spot in the playing eleven.