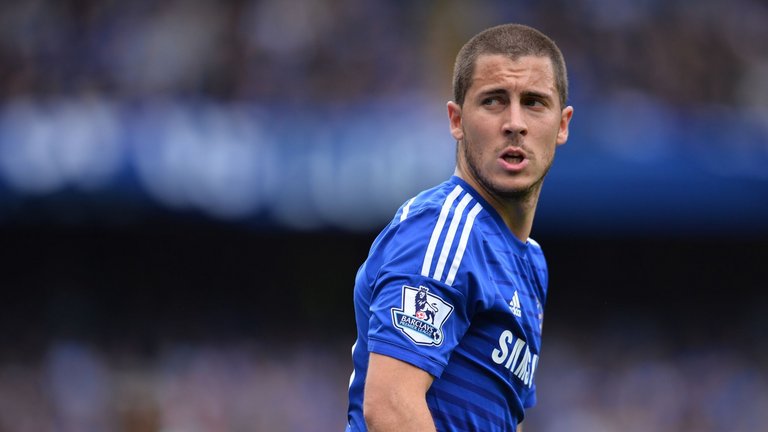 Not only the events of the World Cup are grumbling and rumbling the football universe, but the transfer rumours also. Where Juventus has just completed their biggest signings ever in the history, the other one is desperate to find his alternatives. After conquering Premier League and La Liga, Cristiano Ronaldo is now joining the Serie A side. It would be a versatile career for the Portuguese forward to play in the world's best three football league. As Juventus has just released their veteran keeper Gianluigi Buffon, Ronaldo would be their trade face now on. Though the arrival of the ex-Real Madrid and Manchester United superstar has made the staying of another star Paulo Dybala vulnerable.
Moreover, Real Madrid is concentrating on replacing the place what is being left by Ronaldo and it seems they have found his best alternative option. According to the rumours, the Chelsea star Eden Hazard is being linked with Real Madrid and this may take place very soon.
The Belgian international who will face France today in the semi-final may leave Stamford Bridge this summer. Hazard is understood to take his back off the Blues after falling apart several times with their Italian manager Antonio Conte.
The false five formations of Conte isn't being liked by Eden Hazard and this time he may leave Chelsea for not getting his desired position to play at. It was stated that ex Madrid manager Zinedine Zidane was a great admirer of this dribbler and Eden Hazard also expressed his desires to play for Madrid.
Though Zidane is no more in Madrid Hazard still has got his desires alive. He said that Zidane is someone special but he thinks Real is everyone's dream. He further added that irrespective of Zidane, the "white" jersey is special but the "blue" jersey suits him well so it does not bother me if he stays. Hazard said he hasn't yet received any offers, if he does, he will think thereafter.
At the same time, he was looking focused at the World Cup back then, as he said that he doesn't want to speak about transfers now as he has been asked so many times about that and he wants to be focused on the World Cup. Hazard has won everything with Chelsea except the Champions League and staying at Bridge would be his thanksgiving to the Blues. Hazard expressed his views about his current club's future too.
As Chelsea is looking to build the squad more balanced, he may stay at Bridge and help the English club to be the Invincibles. Though he also admitted that although he wants to spend a good World Cup. It may affect his decisions whether he would leave or stay.
The golden trophy means a lot to the Belgian who is another future Ballon d'Or contender after the era of Ronaldo and Messi. It has been reported that Mbappe and Neymar are the prime targets for Madrid this summer, where Hazard could be their 'plan c'. Lets see what lies ahead at Italy.