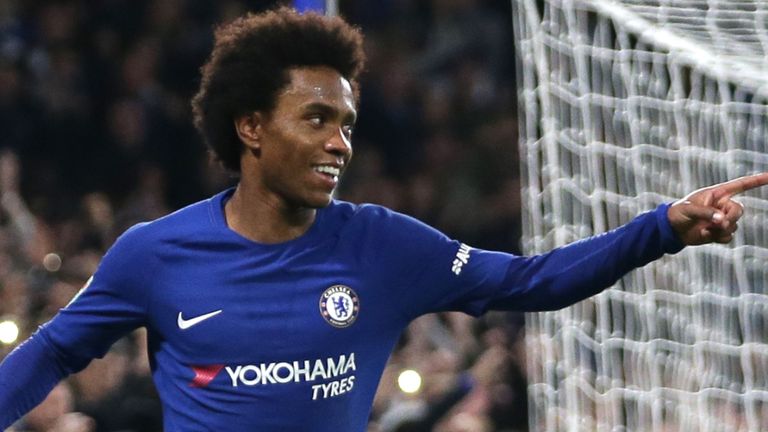 Chelsea FC should be looking to keep their Brazilian winger at the club for more seasons. This is according to former Blues and Liverpool defender Glen Johnson. Willian is expected to leave as a free agent at the end of this season. He recently extended his stay for a few weeks to finish off this campaign. Unlike Pedro, Willian's future at the club is yet to be decided. The Brazillian rejected the two-year contract extension last month as he wants three years deal. It is still doubtful if he wants to move on to a new club or not as Pedro has agreed to join AS Roma after this season as a free agent. Losing Willian will make Chelsea short on experience in attack.
Current Chelsea attacking players i.e. Callum Hudson Odoi and Christian Pulisic is still young to play at this level. This season they were out injured in most parts of the season. English football will be new to Chelsea's new signing Hakim Ziyech, even he is 27. Glen Johnson believes, if Chelsea loses a player like Willian for free, that will be a loss for the club.
What Glen Johnson Said?
The former Blues defender told talkSPORT, "I still think he is a top player. Those sorts of players, those players with that level of professionalism, they are hard to replace."
"Financially, business-wise, trying to replace Willian – how much is that going to cost? You are going to let a top player walk out of the door for nothing. It is going to cost you a good £20m to replace him. I would definitely like to see him stay there for another year."
Willian joined Chelsea from the Ukrainian side Shakhtar Donetsk for £32m in the summer of 2013. He has made 330 appearances for the Blues thus far scoring 59 goals. Despite the statistics not being something to cheer for, there is no doubt that the Brazilian has been a great and loyal servant for the club over seven seasons.
Frank Lampard is happy that both Willian and Pedro happily agreed to stay till the rest of the season and also believes that talks will be held with Willian to keep him at Chelsea for next season.
What The Chelsea Boss Recently Said?
"I am pleased negotiations were relatively easy because both sides wanted the same thing. The two players wanted to make sure they could see the season out with us. At this point we need them in the squad they are both important players for us so I am happy."
"Yes, we are still talking with the players, and Willian, in particular, we are talking with him. I always felt confident that they would remain."
"They have been fantastic professionals for the club and servants in all senses and when you have that level of professionalism within you it was a sign that they wanted to stay and see out this season at least. So we will carry on talking and see but I think everybody's focus now is on these next games, the individuals themselves and us as a club."