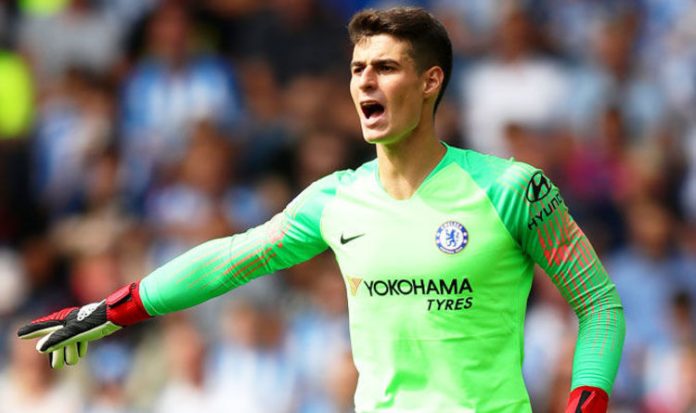 The controversial Spanish International keeper finally made his presence felt after he was decisive in the last moments in the London derby. The 24-year-old made a crucial save in the dying moments in Chelsea's 3-2 victory against Crystal Palace at Selhurst Park. Without that save and of course, the last ditched tackle on Christian Benteke by Kurt Zouma was the reason for Chelsea getting all three points after the 90 minutes.
What Frank Lampard Said About The Chelsea Star?
"Kepa makes a great save, Kurt Zouma makes a great tackle, but in those last moments, it was nerve-wracking. We should have had the game under much more control going into the last five minutes. At 2-0 we should have controlled the game better. At 3-2 we had a lot of chances to finish it off. We made the wrong decisions with the final pass or shot. That invites pressure."
Olivier Giroud opened the scoring against Roy Hodgson's side in the 6th minute after Gray Cahill injured himself in the process of tracking Willian who made the goal. Christian Pulisic doubled Chelsea's lead with an emphatic left-footed strike from another Willian pass. Palace forward Wilfred Zaha scored a belter from 30 yards and Roy Hodgson's men came back into the game. Substitute Tammy Abraham scored the third for Chelsea and everyone thought the game was done. Had it not been for an inch-perfect tackle of Christian Benteke from Kurt Zouma in the final minutes, the game could have ended as a draw.
What Lampard Went On To Add?
"It was fantastic from Kurt. Against Watford, he played a really good game as well: imposing, great defending, good on the ball. That is everything I want. His is definitely a points-saving tackle, it saves us two points. I am really pleased with him."
"For Kepa, it can be big. When you are at the end of the pitch confidence is huge when you are in an individual position. He should be boosted; his team-mates should be boosted because he saved us two points."
"That is what Kepa is there for. I am really pleased for him. We need that to be a top team, people to make those sorts of saves to pull us through. He did it today."
What Giroud Said After That Game?
Luck played a big part in Chelsea's victory at Selhurst Park and striker Olivier Giroud also agrees with that. The French international striker has been in good touch since Lampard started to give him starts. Giroud has scored five goals in the last seven games for the west London outfit.
"I feel very well. I feel good. Statistics are very important for strikers and I am very happy since the gaffer gave me the opportunity to come back to the team since Tottenham. I have scored five in seven so it is nice and I need to keep it up to help our team reach its target."
"We have our destiny in our hands. If we win our games, we do not have to look at the opponents' results so we just need to keep the momentum, keep winning, get some consistency. If we win all our games, we will be in the Champions League next year."