The Hardik Pandya Story- India and Bangladesh have been an intense rivalry over the past few years. Both the teams have engaged in some of the most intense matches. The Bangla Tigers have improved their game and raised their standards. Some of the matches have even gone to the end and have been a nail biter. The clash in the ICC World T20 2016 in Bangalore is one such game. Bangladesh was ready to create a huge upset and knock the Indian Team out of the mega tournament.
Bangladesh needed two runs from the final three deliveries, with set batsman Mushfiqur Rahim and Mahmudullah out in the middle. However, both of them went for the big glory shot and perished in consecutive deliveries. India won the match by one run courtesy of an incredible run out by MS Dhoni in the final delivery. Hardik Pandya was the man who bowled that final over and the memory of that over is still fresh in his minds. He recalled India's victory and said that he never thought India could pull off that match from that position.
Hardik Pandya did not believe what the Bangladeshi batsmen did
He was involved in a recent interaction with Harsha Bhogle in Cricbuzz. Talking about that incident, Pandya said that if he was in that position, he would have opted for a single first before going for the glory shot. 
He went on to further add, "I will be honest, I do not think what happened was possible. Even at that time, I thought if I was there, I would have taken a single and secured a win. And then I would have gone for the signature shot to finish it with a six and all of that."
What was the main strategy to win the game?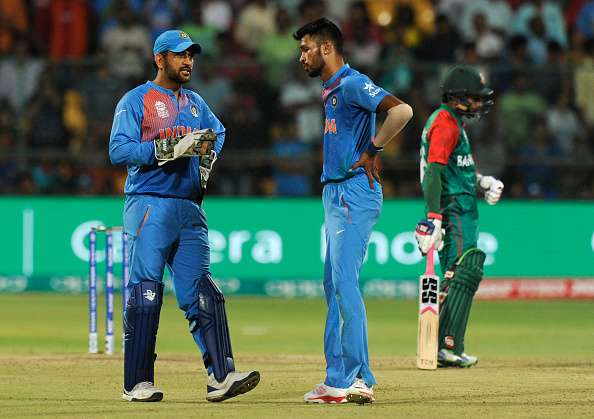 He revealed that he thought Rahim will go for a single. Due to this, he decided to bowl a back of a length delivery to him. A back of a length delivery is difficult to nudge for a single. However, much to his surprise Mushfiqur did something rather different. He surprisingly went for the big shot and perished in the deep.
"I was thinking which is the most difficult ball if someone wants to take a single. So I thought back of the length is something where it would be difficult if you want to hit, and similarly, it is not easy to take a single on it as well. You have to play it well to get a run out of it. But he went for a big shot and that is why he got out," Hardik Pandya further said.
After that match, India defeated Australia in a virtual quarter-final, courtesy of a Virat Kohli blinder. Things were looking good for them and they were the favourites to win the tournament that year.
However, the West Indies had some other ideas. They defeated Team India in the semis, knocking them out of the competition. They further went on to become the World Champions by defeating England in the final.