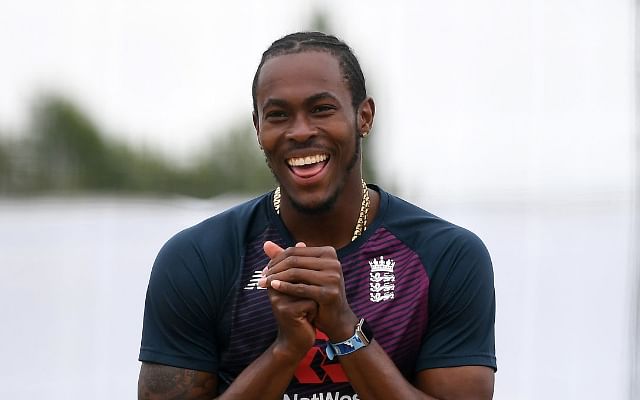 While the world is trolling Virat Kohli for his poor captaincy, there are some people who are focused on his other antics. Fans of the Indian skipper are always keen to defend him. However, one man who has totally focused away from this topic is Rajasthan Royals' star Jofra Archer.
The England international is one of the best predictors on Twitter. His Tweets tell the future and he has been really praised for those. Whether people take them seriously or not, is another thing. To add to that, Archer has been really impressive on the pitch as well.
What Was The Tweet About Virat Kohli That Went Viral?
Recently, RCB lost to the KXIP for the second time this season. KL Rahul and Chris Gayle sealed the win for the side from Punjab. Though there were a few hiccups along the way, it was a convincing win.
However, the post that went viral on Twitter, was one prior to the game. It was a funny video about Virat Kohli dancing during the training session.
Below is the Tweet that went viral-
ffs Kohli ?? pic.twitter.com/rrdP48e8Tv

— Jatin (@LogicalBakwaas) October 15, 2020
The Tweet is so funny that a lot of people shared it around. One such person was our favourite cricket celebrity Jofra Archer. The England international Re-Tweeted with a crazy comment of his own.
What Jofra Archer Tweeted Out Recently?
If the Twitteratti was going berserk after watching this video, Jofra Archer put them in another laughter frenzy. He went on to Re-Tweet the post with a spectacularly funny comment.
Below is Jofra Archer's Tweet-
When she tells you go and lock the door https://t.co/5bHI9FZxgD

— Jofra Archer (@JofraArcher) October 15, 2020
Hope This Tweet By Jofra Archer Does Not Attract Any Kind Of Controversy Now
Recently, both Virat Kohli and Anushka Sharma have attracted a lot of unnecessary attention. This started off with a comment by Sunil Gavaskar. The media and Social Media have been digging a lot into their personal lives recently.
Hopefully, this comment is taken in a fun manner and does not get too much attention. In today's Twitter world, no one really knows what post or comment may really take off. Let's just leave it at that. Cheers to Jofra Archer and his creativity off the pitch.
What Next For Kohli And RCB?
King Kohli would have been really disappointed by the way that his team lost to the KXIP. He would have wanted a better performance from his side, against a team at the bottom of the points' table in this year's IPL.
IPL 2020 has not been the best for KL Rahul and co., who have been really unlucky. On the other hand, they have been poor in sealing games and finishing off sides.
One more Tweet that was sent out with regards to this, after last night's loss, really caught attention. It was in praise of former India and currently KXIP head-coach Anil Kumble.
The Tweet was as follows-
Whatever be the case, the KXIP got the job done against the Royal Challengers Bangalore. That too, for the second time this season. Kudos to their side for that spectacular and much-needed win, that keeps them alive in the competition.