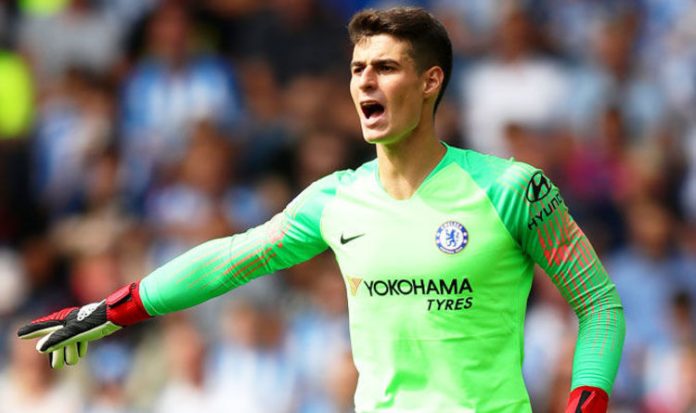 Chelsea boss Frank Lampard says Kepa's fear about not getting selected for his national side in the Euro 2020 is none of his concern and he focuses only on his team. The Spanish shot-stopper has not been consistent so far this season and was dropped to the bench for the sixth game in a row. Back up keeper, Willy Caballero has been preferred to him in the recent games, though the Spaniard has slowly made his return to the first-team, with a couple of clean-sheets against Merseyside outfits Liverpool and Everton.
Kepa was recalled to start in goal against Liverpool in the FA Cup 5th round clash at Stamford Bridge and he did quite well. Further, he kept his place in the team against Everton, where he managed to keep a second clean-sheet.
Lampard said: "I can only pick the team from a Chelsea view. I have not discussed it with him. I keep coming back to the same thing, it is how well you train — he is training well — and, when you get the opportunity to play, how well you play. That is all I see.
"I understand all my international players have ambitions but the rules remain the same. He must have a positive attitude and I am a fair man, I do not know if all the players will say that — 11 will tomorrow and another 11 next week."
"That is the nature of my job. I only call it as I see it, as I see training and performances. I hope all the players remain positive and of course he can play for his country."
"He has shown that already, he has been number one at times ahead of David De Gea who is a world-class goalkeeper so hopefully it is not a big issue at the moment."
"This is Chelsea and we're trying to close the gap to the top, so there can be no one who is relaxed or loose, we have to push every day."
Lampard further added that every player was in control of their destiny and how they train. It was further up to them as to how they play and try to win the game, along with how they train.
Kepa has started six times in the last ten games for Spain and his recent axe from the Chelsea side can affect his chances in the national side. Spain will play Germany and Holland in the Euro 2020 warmups later this month.
It is natural for any player to be concerned about the fact that he may not be the first choice in the European competition. Striker Olivier Giroud is another Chelsea star who has had this concern. Due to this, there was a rift between the former Arsenal man and Lampard too.
Also, Didier Deschamps was not happy about Lampard's utilization of his World Cup-winning striker. He had advised the Blues' boss to play him more often. With the poor form of Michy Batshuayi and the injury to Tammy Abraham, things have changed for the better now. Hopefully, it is the same case with Kepa as well and he can regain his first-team spot, with the solid performances that he has put in recently.