Kevin Owens was the surprise addition to Team Ciampa at NXT TakeOver: WarGames last Saturday. He returned to the place where his WWE journey began and put on a great show inside the deadly structure. He dominated for the most part and was involved in multiple big spots to end the pay-per-view on a high.
Speaking to Corey Graves in After the Bell podcast, Former NXT Champion revealed the backstage details that went into getting him on the show. He said:
"It has been a constant throughout the last few years that any time I hear anybody at NXT getting injured or for some reason not being able to make a show, whether it is a storyline or not, I always send Triple H a text like, 'Hey, if you need somebody, I am here. Hahahahaha.' We always have that little insider joke, and so the same thing happened when I heard that Gargano was off of TakeOver.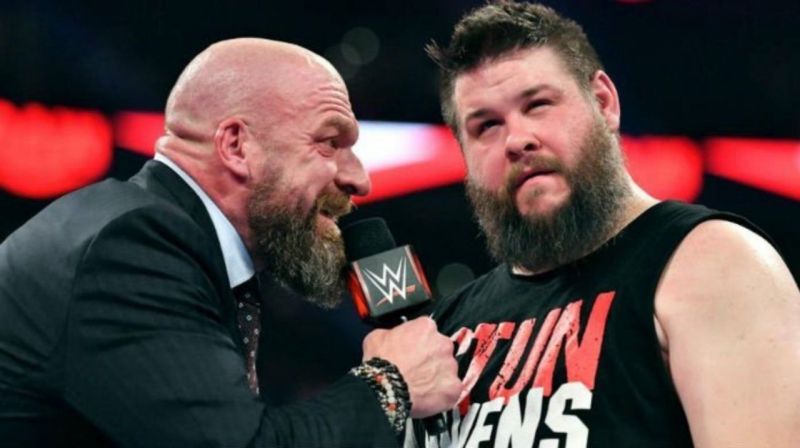 I immediately texted him saying, 'I hear Johnny's out. I am available.' And then this time the answer was, 'Well actually, that is a possibility. I am looking into it.' I was like, 'Oh s–t, alright.' And then he called me in the middle of my European tour a couple of weeks ago and let me know that it was going to happen." 
Owens never shut the door for an NXT return and always wanted to go back to the Black and Gold brand for a match like that. Owens may not return to Full Sail as a permanent member of NXT anytime soon, but that WarGames appearance will always be a highlight of his career.
The former Universal Champion is currently feuding with the recently turned heel, Seth Rollins. After blaming the whole Raw roster for Raw's failure in this year's Survivor Series, Rollins accused Owens of being on NXT's team. The duo then had a match in the main event of Raw, which ended in a disqualification after AoP made their way to the ring to attack Owens. A new partnership seems to be forming between AoP and Rollins.
Ownes returned from a lengthy injury in March this year as a babyface to face Daniel Bryan for the WWE Championship at Fastlane in a triple-threat match also involving Mustafa Ali in a losing cause. After that, he was forced to turn heel again a month later on SmackDown to give a worthy opponent to Kofi Kingston at Money in the Bank, which he again lost. Since then, he was hovering in the mid-card along with Sami Zayn without any storyline and was on the verge of having another bad year in WWE.
His moment in the sun again came during the build-up to SummerSlam, where he blamed Shane McMahon for taking too much TV time, turning babyface once again in the process. The duo then had a couple of matches at SummerSlam and then on SmackDown's premiere episode on FOX Network, which saw Shane being fired from WWE. His last pay-per-view appearance was at last Sunday's Survivor Series, where he was part of Team Raw in the traditional tag team elimination match. He was eliminated by Tommaso Ciampa after he eliminated Chad Gable. Hopefully, we will see more of Kevin Owens in NXT in the future because his character and in-ring style is tailor-made for that brand.
Nevertheless, here is a gif of Adam Cole flying.
Sit front row. Get your system SHOCKED.@RealKeithLee @AdamColePro #WWENXT pic.twitter.com/qrYKfJLwMl

— WWE (@WWE) November 28, 2019