Liverpool goalkeeper Alisson has opened up about how he could have joined Liverpool in 2013 when Brendan Rodgers was in charge at Anfield, as the club had scouted him when he was at Internacional in his homeland. His future brought him to Italy when he joined Roma in 2016 only to develop leaps and bounds in Italy to join Liverpool a couple of seasons later in a mega €62.5m deal.
"Someone told me in 2013 that there was from a coach from Liverpool looking at me, but I did not really believe him," Alisson told English media house The Independent
"Now it is hard to take in all that has happened and to know there is still so much still to come here. Napoli tried to bid for me," Alisson admitted.
"The president came to me, but if I went to Naples from Roma, I was going to put myself in a tough situation in Italy."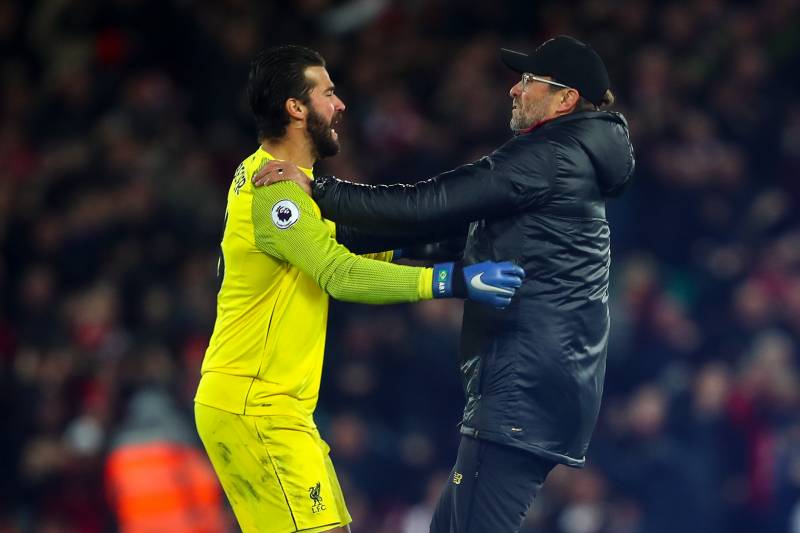 "It is not an official derby, but there is a big rivalry between the teams. I admire Napoli a lot, they have a top squad and it is always hard to play against them, especially when they are at home. But I was committed to joining Liverpool."
The 27-year-old Brazilian shot-stopper took a knock on the opening fixture of the Premier League this season against Norwich and had to sit out on the sidelines for a week. Summer signing Adrian deputised for him and he did a fair enough job for The Reds between the posts. Alisson has been brought back to the starting lineup the moment he was declared fit to play without any hesitation.
Liverpool faced Napoli and he once again proved to be a vital cog in Jurgen Klopp's team. The defending champions of the UEFA Champions League looked to cement the top spot of their group. The game ended in a 1-1 draw, with the team securing yet another crucial point from the tie.
Liverpool are having a brilliant spell in the Premier League as they are eight points clear of second-placed Leicester City. The Foxes themselves are having a great time under former Reds' manager Brendan Rodgers and will hope to challenge Klopp's men this season.
The Brazilian keeper was quite instrumental in helping the Merseyside outfit win the Champions League title last term. He put in a man-of-the-match performance in the final against Tottenham and the fans will be hoping that he can do more of the same, this time as well.
He has been one of the key figures at the back, protecting his goal, as and when needed. With that being said, the buy was money-well-spent and the German manager would be really happy that the goalie has been able to deliver.
The fans will now be hoping that their team can win the league title this year. They have been craving domestic success for decades now and it is high time this drought finally ends. Only time will tell whether this dream becomes a reality or not. Let's hope for the best.