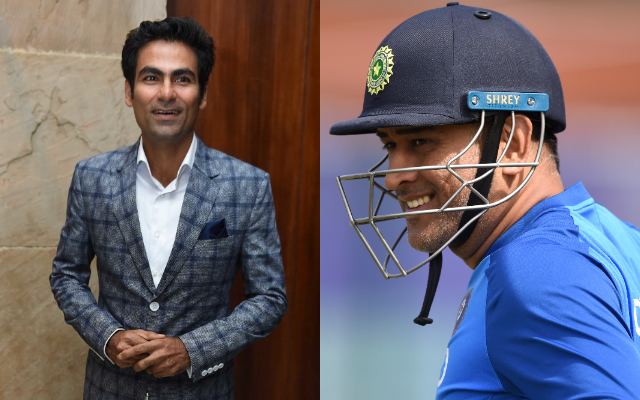 "In my mind, Dhoni is the number one player. No matter how many players come, you cannot replace Mahendra Singh Dhoni,": Mohammad Kaif. With the Indian Premier League postponed indefinitely, M.S.Dhoni's future with the team. This is specifically for the twenty over World Cup seems to be uncertain. The former Indian captain hasn't played a limited-overs match since the World Cup semi-finals against New Zealand a year ago.
According to the former Indian selector Lalchand Rajput, IPL 2020 could've smoothened Dhoni's comeback. However, the probability of the Chennai Super Kings' captain donning the national jersey is reducing as every day passes.
The Indian team confirmed their visit to South Africa for a T-20 series. However, will Dhoni even be considered by the selection committee is the question. Rajput believed that Dhoni's performance in the IPL, good or bad, would make a case for him anyway. This would be with regards to his fitness, form and willingness, but the chances are diminishing.
Lalchand Rajput was not the only one to comment on Mahendra Singh Dhoni's future, his teammates, current and former issued statements in support of the wicketkeeper-batsman.
Mohammad Kaif while talking to the Times of India, recalled his former teammate's journey from the beginning. Kaif was at the other end of the pitch when Dhoni was run-out in his debut. Kaif also batted along when Dhoni slammed the Pakistani bowling attack all around Visakhapatanam to score 148 runs.
How Kaif Discovered Mahendra Singh Dhoni?
Kaif said, "I first saw Dhoni playing when I was the captain of the Central Zone in the Deodhar Trophy and he was playing for the East Zone, about two years before his international debut. We had made about 360 and he came at the number three spot to bat. We thought of attacking him, but he made 80-85 runs in the match off just 40-50 balls. So I had realized that time he (Dhoni) has that X-factor and a unique playing style and a great understanding of the game."
Mohammad Kaif remembered coming to a conclusion and realizing M.S.Dhoni's worth in the team. He recognized the young dynamic wicketkeeper-batsman as the X factor that could not only attain glory for the nation but lead by example.
"But before that, I had first heard about Mahendra Singh Dhoni from a friend who had seen him playing on TV, playing for India A, doing wicket-keeping with goggles on, has long hair and has that X-factor. Then soon, I got the chance of playing with him," Kaif added.
Rishabh Pant and then K.L Rahul have been tested as ideal replacements for Dhoni's powerful finishing, agile wicket-keeping and flawless decision making, while the former has been a flop show, Rahul promises some talent. Even after Rahul's recent success in the limited-overs format, him also being promoted as the skipper of Kings XI Punjab, Kaif feels the young opener is not a long term solution.
How He Concluded The Conversation?
"There has been no replacement. So many players have been tried in place of Dhoni. I don't think KL Rahul is a long-term option. He should always be the back-up wicket-keeper, if a keeper gets injured then Rahul should keep wickets. So you have to groom another keeper. Even Rishabh Pant and Sanju Samson have not been able to take the place of Dhoni. When you talk of Sachin, Dravid, you have had replacements like Kohli, Rohit, Rahane, Pujara. They have filled that void. But it has not been the case with Dhoni. So I think Dhoni is still the number one wicket-keeper. He is amazingly fit and he should not be sidelined in a hurry," Kaif claimed.
The former Indian player who retired from all forms of international cricket in 2006, recalled the moments that defined Mahendra Singh Dhoni's supremacy. India's most-successful captain has dominated in all forms of cricket. However, whether he can now make a comeback, remains to be seen.