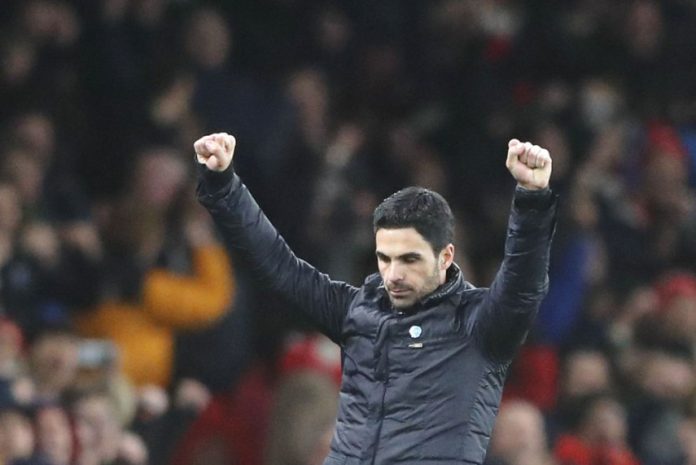 With football season likely to resume, all the heat turns on Mikel Arteta and Arsenal. After a tragic 3-0 loss to Pep Guardiola's Manchester City, Arsenal chief executive Vinai Venkatesham with lawyer Hass Fahmy made no delay to visit the former Arsenal captain's residence. This was to convince him of a comeback to the club, as a manager this time. Arteta spent five years of his career playing for the Gunners. He was expected to rejuvenate their dimming campaign post a series of poor shows by Arsenal under Unai Emery.
However, the Spaniard's arrival didn't seem to turn fate completely. They still sit on the ninth rung of the Premier League table with 40 points. They are five shy of Manchester United (fifth). As of now, the Champions League qualification road is full of hurdles. Despite that, Arteta is expected to cross in time, so he can protect the club's diminishing glory. The race to the top four rungs seems very tight. Liverpool and Manchester City are on the verge of sealing a berth already.
The Whole Story Of The Current Situation
With only 10 matches in hand, Mikel Arteta must not only win the most of them but also pray for other teams to fail. Arsenal needs to somehow manage to get into the top four. After analyzing some statistics, one might easily realize how good this team has been in the fag end of the tournament. They have done well, especially under Arsene Wenger. However, now that there is a radical shift in the management, all eyes will be on Mikel Arteta.
While the English outfit is attracting all the drama in England, Unai Emery, their former manager had something to say about a senior player. He talked about Mesut Ozil's shabby attitude and commitment towards the club. The German footballer is set to lead this Arsenal side out of the dirty ditch they find themselves in. However, Emery pointed out bluntly at his lack of commitment for the captaining the club.
What Mikel Arteta Said About Ozil?
"In the end, he has to look at himself. At his attitude and his commitment."I tried my utmost to help Ozil. Throughout my career, talented players have been my favourites and they have played at their best or close to their best with me. I was always positive with him in terms of wanting him to be involved, but then the attitude that he adopted, and the commitment levels, well, they were not enough. One of the captains could possibly have been Ozil but the dressing room didn't want him to be captain," Emery suggested.
"His level of commitment was not that of someone who deserved to be captain, and that is not what I decided, that is what the players decided," he added.
Ozil has been a regular starter in the first season under Arteta. Both of them shared a strong bond. Arsenal is still struggling in the FA cup and would hope for some unique energy from their captain. This would help cruise the side towards the title this year. However, Mikel Arteta seems to be pleased with Ozil's performance and might not be affected by Emery's opinions.
Arsenal may also look at signing a newer lot of youngsters to support the group. Especially a top-notch goalkeeper. With the premier league expected to begin soon, Mikel Arteta and captain Ozil must buckle up for a ruthless battle lies ahead.