What Muttiah Muralitharan Said? Indian premier off-spinner Ravichandran Ashwin has been very active on social media during the coronavirus pandemic. Ashwin has managed to stay in touch with the fans by conducting many Q&A sessions on his Twitter and many interviews on his show 'DRS With Ash'.
Sri Lankan veteran and legend, Muttiah Muralitharan was the recent guest in Ashwin's show. Ashwin asked many questions to him and both of them talked about several on-field and off-field incidents. Muralitharan even heaped praise on the former Indian captain MS Dhoni. He also reminisced the moment when he scalped his 800th Test wicket- an absolute record!
He picked up his 800th Test wicket when Sri Lanka faced India in 2010 at Galle. Sri Lanka needed just 1 wicket to win and Muralitharan also required one wicket to reach the 800th mark. Tailenders Ishant Sharma and Pragyan Ojha were at the crease during that time.
Muralitharan reveals what he told Ishant Sharma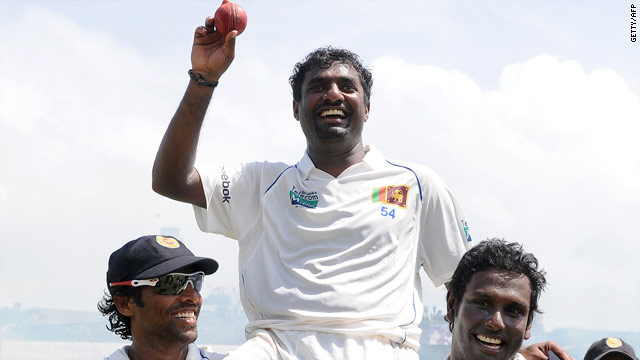 Ashwin recalled the moment and said that Ojha claimed that he gave his wicket on purpose to help Muralitharan scalp his 800th Test wicket. However, the Indian dressing room trolled him for his baseless claim.
Muralitharan replied that he did not talk to Ojha about anything in the middle. However, he had a chat with Ishant and told him to start playing his shots and throw his wicket as India was neither in a position to draw or win.
Ashwin said, "Ojha said that he gave away his wicket on purpose, considering Murali's stature and the landmark. Everybody trolled him in the dressing room. Even if you had not 'purposely' thrown your wicket away, Murali would have got you the next ball."
 What Muralitharan responded by saying?
"I did not say anything to Pragyan Ojha, I told Ishant Sharma during the water break 'Ishant, just start playing shots. It's the last wicket. Despite all this, India is not going to draw or win. Give me your wicket and go. At least I will be satisfied."
This was the brilliant exchange between the two brilliant bowlers. Both know the value of each wicket and this was the kind of fun that they had on the pitch. Amazing to see how Murali can turn down the years with his wit. What a great experience to say the least.
Coming to the match, Sri Lanka posted a mammoth total of 520 runs in the first innings. India lost all their wickets for 276 runs in the first innings and Sri Lanka enforced the follow on. In the second innings, Sri Lanka reduced them to 314/9 before Ojha and Ishant joined in. They held their guards for 15.2 overs before Muralitharan picked up Ojha's wicket to reach the unimaginable 800-wicket landmark.
Till date, Muralitharan holds the record of the highest wicket-taker in Tests with 800 wickets and also the highest wicket-taker in international cricket with 1347 scalps. He made his international debut in 1992 and played 133 Tests, 350 ODIs and 12 T20Is for Sri Lanka. Besides him, only Shane Warne has picked up more than 1000 international wickets.
Here is the Video: