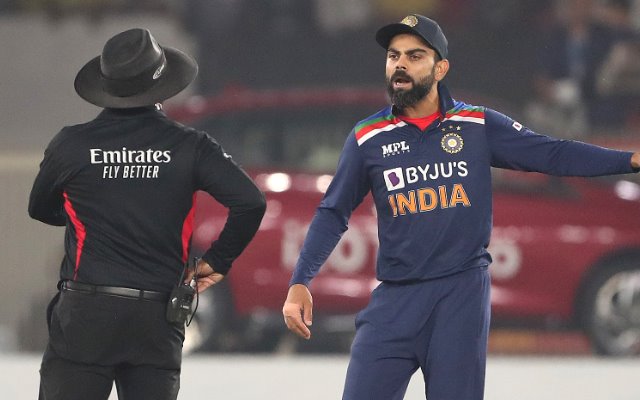 The Virat Kohli Statement- Naseeruddin Shah has been known to make some rash comments in recent times. Whether it is on political issues or rather on social ones, the actor is known to let his opinion known to his fans, without having a proper filter, one can say. Sometimes he does tend to go overboard with his opinion, which does not go down well with the fans or supporters of individuals that he talks about.
Many times it has happened previously on Social Media, that the veteran actor has been called out. Despite that, he keeps doing things over and over again. This is not really appreciated on Social Media at times.
He likes to trigger fans by making comments that not everyone appreciates. Especially, those who are in too much love with the country. Sometimes it does also seem that the actor likes to have fun and toy with some of the fans, who are really reactive. That can be unappreciated sometimes too.
The Comment That Naseeruddin Shah Had Made About Indian Skipper Virat Kohli, Which Did Not Go Down Well With The fans
Naseeruddin Shah has his moments on Social Media, where he tends to go off track a bit. His comments on his verified account were, "Virat K is not only the world's best batsman. He is also the world's worst behaved player. His cricketing brilliance pales beside his arrogance and bad manners. Have no intention of leaving the country by the way."
This is in response to what some sections of the fanbase keep saying. They do not like criticism and this was a direct taunt at them. This is something that the liberals like to do from time to time. The post was made back in 2018, so it has been quite a while since he has been up to any such mischief in recent times.
Below is the post that was put up that went viral, with the fans having different opinions on what was said by the senior actor-
However, the response on Social Media was either defensive or aggressive. Some fans said that Virat Kohli needs the aggression. That is to beat a team like Australia. On the other hand, other fans were just not pleased with the opinion. Very few of the fans would have agreed with the actor.
The next six months that are coming up will be crucial for Indian cricket and Team India. They will be playing the final of the World Test Championship. Further, the team will feature in a series against England in England. Lastly, the IPL 2021 tournament and the T20 World Cup will also be included in the business end of the year.
Keeping that in mind, Virat Kohli and co. will be totally focused at the job in hand. Aggressive or not, well-mannered or not, their focus will be to win the final of the Test tournament. Further, a T20 World Cup win will help Team India silence their critics. The IPL 2021 trophy could also be important to King Kohli and his fanbase from Bengaluru. Whether that dream gets fulfilled or not is another question, which only till will tell!!