The situation under former Arsenal manager Unai Emery: During his time at the club, under-fire Arsenal manager Unai Emery had revealed that he was hoping he can convince outcast Granit Xhaka not to quit the club during the January transfer window. Swiss international midfielder Xhaka remains upset at being stripped of the captaincy for swearing at Gunners fans four weeks ago and is believed to be seeking an exit from the north London club as early in January.
The 27-year-old had not been included in any of their match-day squads since his Emirates meltdown during the 2-2 with Crystal Palace (whom they face next). The Gunners failed to win any of these games in the meantime, though.
During the international break, the Swiss midfield dynamo starred for his national team and helped his team win both their games against Georgia and Gibraltar. He also scored his 12th international goal in the 6-1 win against Gibraltar as Switzerland retained their top spot in Group D of the qualifiers of the Euro 2020.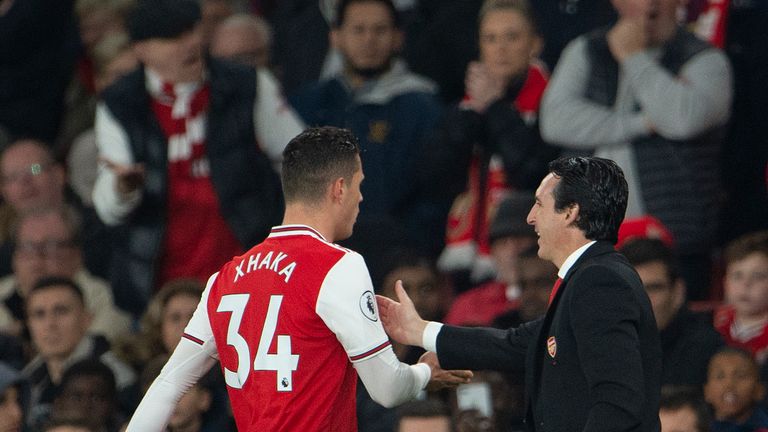 While on international duty this week, Xhaka stated: "I have a clear idea how things should proceed as I can not accept what has happened."
However, during his press conference ahead of the Southampton game, Gunners' boss Emery seemed confident that Xhaka is slowly coming around to the idea of an Arsenal return. But,   the   former PSG manager also stated that the player first needs to make his peace with supporters who have always been behind the club through their thick and thin.
The former Arsenal manager back then said: "This morning at training I had a very good conversation with Granit and he wants to come back. He is feeling better and believes his team is Arsenal. He is a good guy and a good player. He loves and respects Arsenal and knows that in one game he made a mistake. First of all, we do not forget his mistake. That is why I took the captaincy off him as it is better he does not have that responsibility."
"But he has told me he is very convinced to help the team and the objective I am working for is for Granit to have a long future with us. The conf­idence of the supporters will decide when he comes back. We want him to help us and also convince every supporter of his commitment.
"His performances are going to be better and they are going to be proud of him. At the moment it is most important how he feels. If we can connect with our fans, we are going to improve. In this situation, it is better to do it with him on the pitch. That could be at the Emirates or away.
"It is a special circumstance with Xhaka, but he is not the only player who needs to find conf­idence. Hector Bellerin told me he sometimes struggled with the supporters when his performances were not the best. We have had some other players in the same situation. But they have all come back and with Xhaka, it is the same."
Xhaka, a £38.25m signing from German giants Borussia Moenchengladbach in 2016, still has two and a half years of his £100k-a-week contract remaining at the Emirates.
Despite being at the club for a decent amount of time, he could never truly win the love and affection of the arsenal faithful. Most of the fans were critical when he was given the armband in the summer following the departure of Nacho Monreal.
Xhaka lost his rag on the fans when he was booed at the time of being subbed against Crystal Palace on October 27. The former Borussia Monchengladbach star is believed to be considering his future with his former club in Germany and a few others German sides as well as the Italian duo of AC Milan and Inter Milan interested in his signature.