Rusev was off of WWE TV for a while now. His last appearance was on February 17, 2020, where he teamed up with Humberto Carillo to take on Bobby Lashley and Angel Garza in a losing cause. His rivalry with Bobby Lashley has been going on for months. Fans have expressed their displeasure regarding the feud on several occasions, but the management continued to allocate a chunk of air time to the duo and Lana. Finally, Rusev talks in detail about the problem now.
Raw's ratings struggled at times due to this, but it never stopped Vince McMahon from putting on the same old wrestling love story on his show.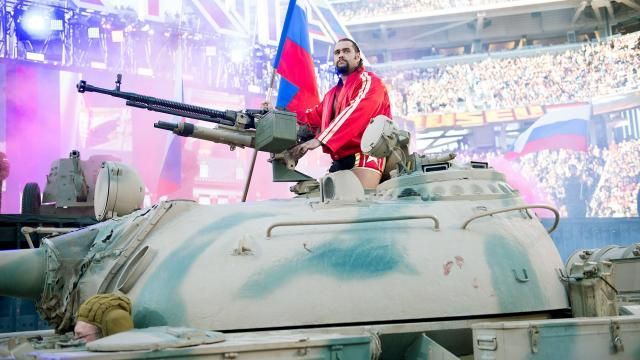 Rusev has reportedly injured his back and that's why he has been kept off the television. His rivalry with Lashley was expected to go on till WrestleMania but it looks like it has been called off due to The Bulgarian Brute's injury.
The former United States Champion recently sat out with The Pop Break to discuss his future plans and his goals. Rusev, right now, just wants to get back to wrestling on TV again.
Well my goal is to get on TV, because I haven't been on TV in a while. That's my goal. Where's my next opportunity? I'm just waiting for that. I just can't wait to crush—pun intended—whatever they throw at me. I'm ready for it.
Earlier in the year, many reports were surfacing that Rusev is going to leave WWE at the end of his contract in search of new opportunities. Apparently, he is unhappy with his position in the company and feels that his talent is worth elsewhere.
So, if this is true and his contract is going to end soon, then we might not see him at WrestleMania at all as WWE would not want to waste a valuable spot on someone who is going to leave their promotion soon.
---
In other news, Vince McMahon has reportedly ordered to drop 'Eric Rowan's cage' storyline.
According to Wrestling Observer Radio, Vince McMahon asked to abandon the storyline last week and that's why we got the underwhelming 'reveal' backstage last week.
I guess so. Whatever it was, Vince decreed the end of it last week, so this was the finish of that. It was stupid, might as well get it out.
WWE was building 'What is inside Eric Rowan's cage?' for months before revealing it to be a spider in a backstage skit last week. Most of the fans unsurprised with the reveal as not many expected it to lead to some good storyline for Rowan moving into WrestleMania. At this point, WWE is incapable of booking a good long-term storyline and people already know that.
This week on Raw, Drew McIntyre smashed the cage with steel steps before beating Rowan in a short match. While it did make McIntyre look strong before his WWE Championship match against Brock Lesnar, Rowan now has nothing to do as he was squashing unknown jobbers for months and when he finally came up against a legitimate WWE superstar, he lost the match in minutes. Vince McMahon definitely knows what he is doing.