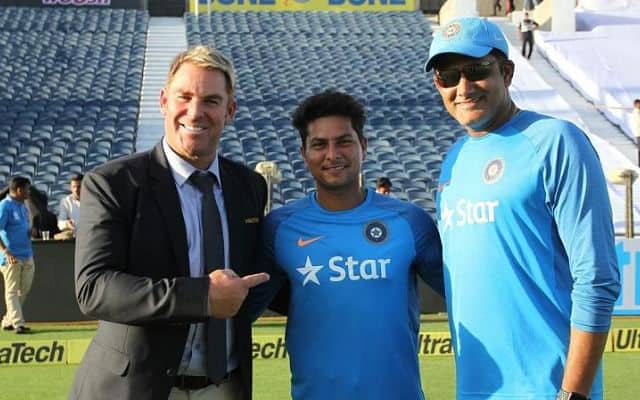 Shane Warne has predicted the top four teams which will qualify for the playoffs this season in Indian Premier League (IPL 2020). According to the star Australian leg spinner, Chennai Super Kings, Mumbai Indians and Delhi Capitals will qualify for the playoffs along with Rajasthan Royals. Chennai Super Kings have been super consistent in this tournament and it's really hard to believe that they will not be the playoffs. Mumbai Indians have a very balanced squad and Delhi Capitals have also played quite well so far in this tournament.
Chennai Super Kings have not got the rhythm yet in this tournament. After the win against Mumbai Indians in the first match, Chennai Super Kings have struggled in the next two matches of the tournament. Their spinners are not in form and they have not been able to take wickets in the middle overs. They are missing Suresh Raina and Harbhajan Singh in this tournament and that's clearly visible in their gameplay.
IPL 2020 Predictions Made By The Australian Legend
Ambati Rayudu has not been able to play for Chennai Super Kings in last two matches because of an injury. Mahendra Singh Dhoni is also not looking in great touch. Shane Watson is not in great form. The Australian opener does not bowl nowadays. So, the team management will certainly have to think about his slot in the starting XI. These factors might be crucial for Chennai Super Kings this season in terms of qualifying for the playoffs.
Mumbai Indians have won one out of three matches so far. They have been quite good so far in this tournament. However, all the departments have not clicked at the same time for them. This team can certainly go to the playoffs this season. The opening partnership of Mumbai Indians has not been good so far. The management will surely have to think about it. The spin bowling options might be another weakness for this side in the later stage of the tournament.
Which Are The Other Teams That Shane Warne Picked?
On the other hand, Delhi Capitals are at the top of the league table of Indian Premier League at this moment. They have won two matches so far and the team combination is looking quite good for them so far. Delhi Capitals are one of the most balanced sides in this season. They are certainly one of the title contenders this season.
Rajasthan Royals have won first two matches at Sharjah. However, they have suffered a huge defeat against Kolkata Knight Riders in the third match of the tournament. Rajasthan Royals' batting lineup is heavily dependent on their top three batsmen. Sanju Samson has been showing terrific form so far in this tournament. Steve Smith and Jos Buttler can also demolish any kind of bowling lineup on their own day.
However, the over-dependence on these three might be a problem for them in the later stage. They are missing the service of the star English all-rounder Ben Stokes at this moment. It will be interesting to see how they respond in the match against Royal Challengers Bangalore after the huge defeat. The IPL 2020 has already proven to be a great tournament so far. Let's wait and watch now.