Ever since the AEW's first show, Double or Nothing, AEW President and CEO, Tony Khan has kept himself off the programming. He regularly gives interviews during media scrums after each of their pay-per-views, but Khan never appeared on any of the televised products till now. He once appeared backstage in one of the episodes of the AEW Dynamite when he told Jon Moxley that his match against Kenny Omega at All Out is going to be non-sanctioned. Even then he never showed his face, only his voice was heard from behind the door. Despite that, this time, he was involved in an angle with a former WWE superstar.
Even then he was criticized as fans don't want an authority figure on the show. WWE has done that to death with The Authority and that infamous feud between Vince McMahon and Stone Cold. WWE keeps on having a heel authority figure on their show, which gets stale with time, but due to the success of the storyline in the past, the management keeps on reverting back to it.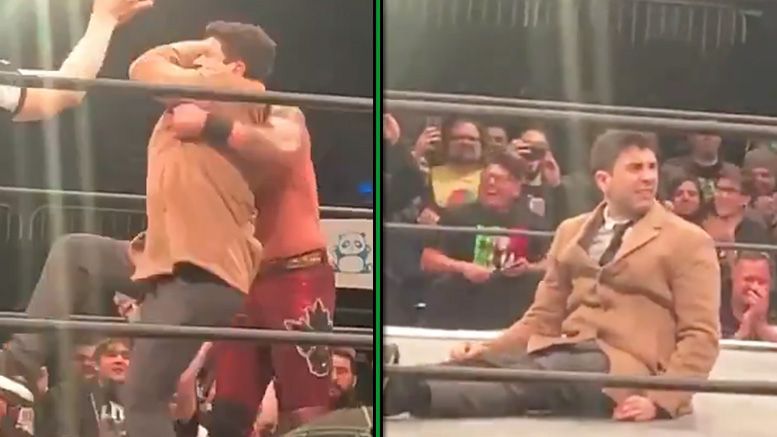 So, the fans were deservedly upset when AEW tested the waters by introducing an authority figure. Tony Khan later cleared the air that it was just a one-time thing and he is never going to be a permanent character on AEW.
It was a crazy night and such things can always happen at such huge main-events. With that being said, the audiences would have possibly felt some kind of nostalgia for sure. The fans have been keen on watching some sort of an angle with the boss and the employees now, for quite some time.
However, the angle hasn't worked well beyond Vince and his prime. Keeping that in mind, this could be the much-needed change that they want.
He is again in the firing line as after the last week's AEW Dynamite show, Khan appeared in the ring to give Stone-Cold Stunner to Shawn Spears. He is getting a huge backlash on social media as he is not a professional wrestler in any shape or form.
Khan later revealed on Twitter that he had no idea that Cody Rhodes was going to call him out to the ring and then Nick Jackson and Spears would force him to give a stunner, but after Spears and crowd called him out, he had no choice.
Dude, I had no idea that was happening. Cody called me out, I went to thank the crowd, Nick asked me if I wanted to do a stunner, I said no, then Spears was screaming my name and calling for it, then I heard people in the crowd calling for it, and at that point, I had no choice.

— Tony Khan (@TonyKhan) December 20, 2019
Former WWE superstar Shawn Spears later came to Khan's rescue and said that it was just for fun and the stunner was his idea. He also said that the crowd enjoyed it, so the mission was accomplished.
It's worth noting that it was just done for the crowd as a Dark segment and had nothing to do with their TV show. The angle didn't feature in the AEW Dynamite and would probably not feature in AEW's weekly Youtube show, AEW Dark as well. It might feature in Young Bucks' Being The Elite, but that show is just for fun.
This kind of shenanigans is not just limited to AEW as all the promotions including WWE do such segments after the TV tapings where the legends hit their finishing moves on an annoying heel to send the crowd home happy. Sometimes, wrestling is just meant for laughter. Nothing more and nothing less.