One of the best games of the season so far, saw Chelsea host Arsenal at Stamford Bridge. The game was played between two teams, who had both seen new managers take over this summer and were looking to win their first London derby in the Premier League, after a pre-season clash in the International Champions Cup. It was never expected to be an easy game, though it was always going to be highly intense and the match did not disappoint at all.
What started off as a quick paced game, saw a lot of chances being created in the early minutes, with Arsenal getting the better of their opponents. However, as always, the Gunners failed to score and it was the hosts that took the lead through a Pedro goal in the 9th minute of the match.
What followed was a flurry of attacks once again from both sides, with Maurizio Sarri's side having more luck in front of goal, while the Gunners kept missing sitters. First it was Aubamayeng, who had a game he would want to forget. Then, it was Henrikh Mkhitaryan who joined the party and not in the right sense.
Despite the misses, one man who managed to score amidst all this drama was Alvaro Morata, who doubled the lead in the 20th minute. Things looked quite easy for the Italian boss and his side, though it was just not done yet.
Their complacency and lack of quality at the back was quite visible, as they let in two quick goals within the space of just four minutes.
The former Manchester United man scored first in the 37th minute, followed by an Alex Iwobi goal in the 41st, while Aubamayeng missed another simple goal scoring opportunity just before half-time.
His nightmare continued after the break as he was more or less invisible, much like Mesut Ozil and it was Marcos Alonso who scored in the 81st minute eventually in the 81st minute to make it 3-2. Eden Hazard getting the assist for that like he did in the first game, coming off the bench as a super sub. Chelsea snatched a narrow win and Sarri would be delighted to have won his first home game and that too a London derby.
Here are the best and worst players of the game-
Best players-
Marcos Alonso
A goal and an assist to his name, including the match-winner. His runs down the left were always threatening and he exposed the weak Arsenal defence with his forward runs. His link-up play on the left hand side was quite good and he was easily the best Chelsea player on the night.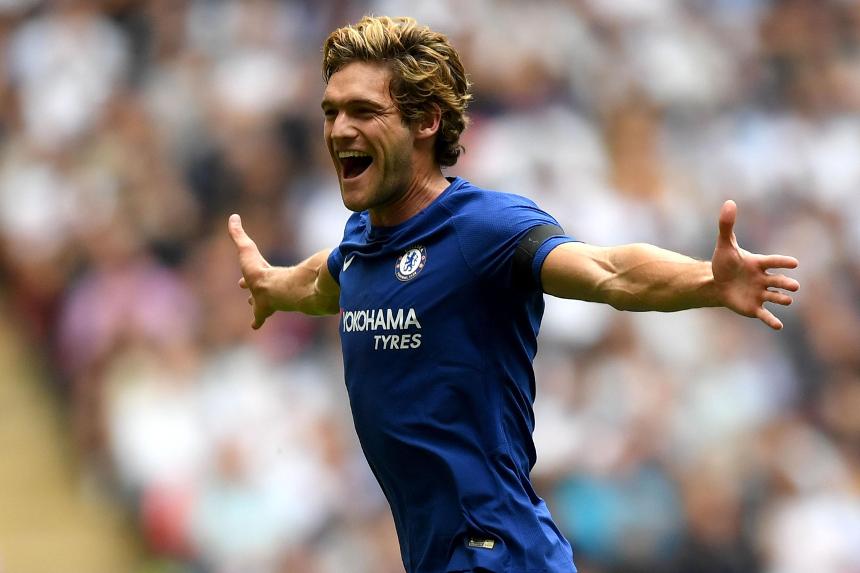 Pedro
Scored an early goal which set the tone for the home side to go and get more goals. Though his contribution beyond that point was not really great, there were times when he looked lively and helped create more. His career looks revived at the club with the new manager, who plays a more attack minded formation.
Henrikh Mkhitaryan
Though he missed a simple goal initially, he made up for it with a goal and an assist. Much more effective while pushing forward than some of his team-mates who were rather pathetic. Overall, a great game for him. However, if he had just converted that one missed chance, his team might have taken something from the game.
Worst players-
Pierre-Emerick Aubameyang
The worst player on the pitch in the game and that too by a clear margin. Looked really poor and had some very easy chances to finish off, which he rather screwed up and cost his team the game. His movement and creativity were clearly lacking too and he was barely involved in the match for the right reasons.
Mesut Ozil
Another poor performance for the player who has been all over the news with regards to his controversy related to the national team. It seems that he is still not back to playing normally and will need more time. He was really pathetic in the game, after an early chance that he got and had no impact at all. No wonder he was taken off by Emery. Unless his attitude changes and fast, we will see more of the same and he could be dropped soon.
Granit Xhaka
Taken off at half-time due to his poor performance in the match. He was once again indisciplined and picked up an early yellow, after which Emery felt that he was ineffective and decided to take him off at the half-time break, replacing him with Lucas Torreira.