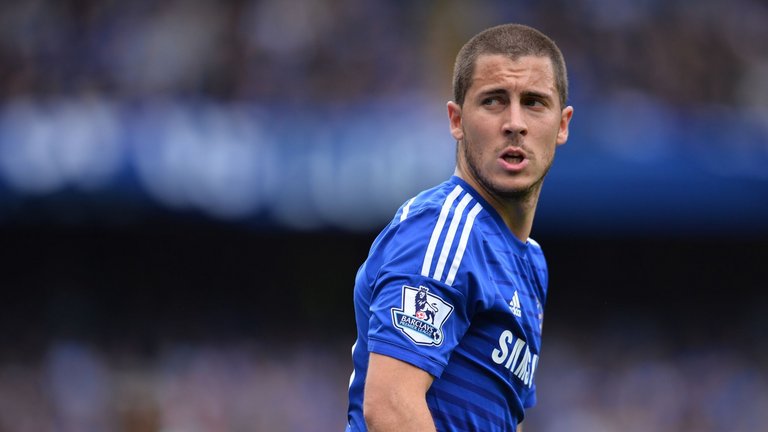 The Blues have finally set a world record price tag on Belgian superstar Eden Hazard amid interest from La Liga giants Real Madrid. Chelsea will be willing to part ways with Hazard only if any club can cross a £200m transfer fee for the star winger. Chelsea finished fifth in the Premier League table last term after a rather underwhelming campaign. It was a torrid title defense and a spot outside the top 4 meant that the West London club would not be eligible to play in the Champions League the following season. Despite winning the FA Cup final against fierce rivals Manchester United back in May, Italian boss Antonio Conte was not able to keep his job and got the sack this month. This will just be the start of a difficult summer as Chelsea are going to find it difficult to retain some of their key players.
One player who has been heavily linked with a move away from Stamford Bridge is 27-year-old superstar Eden Hazard. The Chelsea winger has been the star attraction for La Liga side Real Madrid and the Spanish giants are eager to sign him up this season. After Portugal captain Cristiano Ronaldo departed for Serie A champions Juventus a few weeks ago in a deal worth €105m, there has been a massive void left at the Santiago Bernabeu.
The European champions are on the lookout for a replacement and only a few players in the world can fill in those boots. Chelsea's Eden Hazard and Paris Saint Germain's Neymar are the two players that are linked with joining the Champions League holders.
Although, Hazard has insisted that he will not push for a move away from Chelsea and new manager Maurizio Sarri is eager to work with the star attacker. But Hazard has also stalled a contract extension with the Blues which was worth £300,000 a week deal. This meant that Hazard could probably move to the Spanish capital if Real Madrid offers a bid for him. However, Chelsea has finally slapped a price tag on their club talisman and will only allow him to leave for a world record fee.
Chelsea has stated that Hazard will be leaving Stamford Bridge for a fee of £200 million or excess. This would potentially make Hazard the most expensive transfer of all time after Neymar's move to Paris Saint Germain from La Liga champions Barcelona last summer. The Ligue 1 giants spent £198m to recruit the Brazilian's services smashing the world record. Real Madrid is keen on doing business with Chelsea and luring Hazard to the Santiago Bernabeu no matter what the cost.
In recent times though, it was confirmed that Los Blancos would not be signing the Belgian international and were looking at alternatives to bring to the Bernabeu. This had made the winger unhappy, as it was his dream to play for Real Madrid and now he will have to remain at the Bridge. Well, whatever happens, does happen for the best and it will be interesting to see if any club actually dares to take Hazard away from Chelsea in the long run.