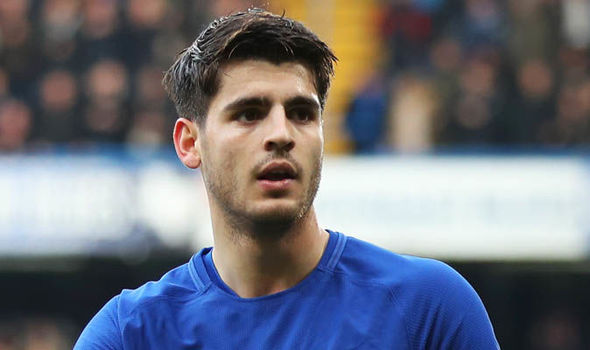 How The Chelsea Fans Reacted!!
"Get out", "Good Riddance" or "Don't come back". These were some brutal comments made by a few Blues fans as they conveyed their regards to the departing Spaniard after a quite horrendous 18 month stay at the Stamford Bridge. Morata sadly wasn't a hit among the Chelsea fans despite a great start in his debut season in the Premier League, the 26 year old scored 9 goals in 13 matches at the start of the 2017 season and was even tipped to be a perfect replacement for Brazilian born Diego Costa but ever since he has just been a miserable shadow of himself. Diego Costa was also treated poorly by former Juventus manager Antonio Conte in his management during the 2017 season and hence the Spanish international was forced to consider his options as the Italian had discarded him from the starting 11 and apparently was notified by the Boss via a text message that he was not in his plans for the new season and was told to leave if a good offer arrived on the table.
Costa being Costa lashed out at his then manager Antonio Conte and said "This is Disrespect" as he wanted to know about the things going on Face to Face rather than hiding behind a gadget, but this is about Alvaro Morata and not Diego Costa whom the former will team up with for the next 18 month period at the Wanda Metropolitano in Madrid.
The Blues clearly had enough of the Spanish international and might as well were praying that he leaves the club as soon as possible. Morata tasted success at both Real Madrid and Juventus as he won League titles, Domestic Cups (Juventus) and the most coveted trophy in Europe the Champions League (Real Madrid) but unfortunately did not do much in England and even failed to deliver the goods as Chelsea finished 5th on the points table and hence could not make it to the Champions League in the previous season.
This season to the forward had a rather disappointing 6 months as he failed to convert chances and wasplayed second fiddle to Olivire Giroud, in 24 games the Spaniard only netted 9 times and failed to register a single assist where as Giroud has netted 5 goals and laid 5 assists in 27 appearances, I know the Frenchmen too has not had a much of an impact but I don't see the Blues fans "Complaining" about him as much as they did with the poor boy.
The Blues sought a replacement before they let Alvaro Morata leave and Sarri was more than content to have been reunited with Gonzalo Higuain his former player during his Napoli stint. The Argentine had the best season of his career under the Italian as he broke a 66 year old record held by Gunnar Nordahl for scoring 35 league goals in one campaign in 1949-50 the then 28 year old netted 36 times breaking the record and also did in just 35 games.
Chelsea have had a fantastic start under the new regime of Maurizio Sarri but they did however lost balance in the midst and now find themselves 13 points behind league leaders Liverpool but with the arrival of Higuain they might hope to go down until the end and salvage something from this season.
Atletico Fans Weren't Happy Either-
The fact that he was a Real Madrid player previously and has now signed with Atletico Madrid did not go down well with the fans of the rivals that he has penned a deal with currently. The player wants to put his past behind him, but it will interesting to see whether the fans will let him or not. He is out of form at present and will want to quickly impress and win them over.
There have been claims going around that they were not too happy that he was joining them to rebuild his career, though they surely respect their manager's decision. He has good relations with the likes of Griezmann and co. and will want to build on that.
(Author- Karan Shingrani)