The Rusev Update- Another year, another Saudi Arabia show. We are just days away from another long-drawn glorified house-show event from Riyadh that nobody likes. This is the event in which a bunch of 50-year former wrestlers comes out their retirement home to unsuccessfully try to convince people that they can still wrestle in a 20-minutes classic.
We are in the third year of a 10-year deal with the Saudi government in which WWE will host two shows every year in the land of Saudi Arabia. WWE has gone all out in padding the card with legends and extraordinary gimmick matches like 50 men Royal Rumble and WWE World Cup in the past. This year too, it is no different as Super ShowDown will feature the first-ever match for the Tuwaiq Trophy, where six wrestlers will compete in a gauntlet match.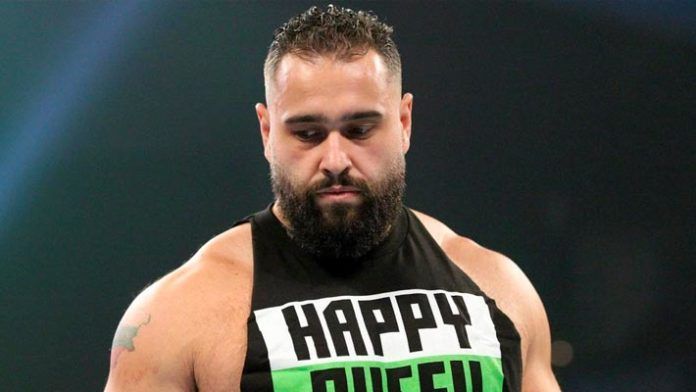 The six wrestlers who are going to compete in the event are Rey Mysterio, AJ Styles, Erick Rowan, R-Truth, Andrade, and Bobby Lashley.
When the match was first announced by the company, Rusev was scheduled to compete in the match. But, WWE replaced him with Rey Mysterio without providing any reason. This just fueled the on-going rumour about Rusev leaving WWE as many fans started speculating that he is indeed going to leave the promotion at the end of his contract and WWE didn't want to waste a spot on a wrestler that might not wrestle for them in a few months.
Apparently, that is not the case. PWInsider is now reporting that Rusev was removed from the match because he has a back problem, which will keep him away from the ring for a while.
WWE star Rusev was not at tonight's Raw in Winnipeg, Manitoba and is no longer scheduled to travel to Saudi Arabia for this Thursday's WWE Super Showdown in Riyadh. The word making the rounds is that Rusev is citing a back issue, leading to his replacement.
The Bulgarian Brute's last match on WWE TV was on last week's Raw in which he teamed up with Humberto Carillo to wrestle against Angel Garza and Bobby Lashley. His feud with Lashley has been going on for months now and despite fans' backlash, the writers are still stretching it as much as they can.
WWE Super showDown will take place on February 27, 2020, at the Mohammed Abdu Arena on the Boulevard in Riyadh, Saudi Arabia. It will once again be an event to watch out for.
The seven matches that have been announced so far for the event are as follows:
SmackDown tag team championship- New Day vs The Miz and John Morrison
WWE Championship- Brock Lesnar vs Ricochet
Roman Reigns vs Baron Corbin (for the millionth time)- Steel cage match
Universal Championship- Bray Wyatt vs Goldberg
Gauntlet match for Tuwaiq Trophy- Rey Mysterio, AJ Styles, Erick Rowan, R-Truth, Andrade, and Bobby Lashley
SmackDown women's championship- Bayley vs Naomi (first time a WWE women's title will be defended in Saudi Arabia)
Raw tag team championship- Seth Rollins and Murphy vs The Street Profits