After 1996 Euro cup win Germany was facing a crisis. There was no fresh blood that could continue the legacy left behind by Lothar Matthäus, Rudi Voller, Jurgen Klinsmann, Oliver Bierhoff etc. As a result, the German pride was thrashed by Croatia in the quarter-finals of 1998 World Cup. When the future seemed dark then a boy from Saxony emerged as a shining star in the dark. Michael Ballack was born in Gorlitz, Germany to engineer Stephan Ballack and secretary Karin Ballack. Ballack started his football career at the age of seven at Chemnitzer FC.
From that tender age, Ballack could use both feet equally. He was an integral part of the Chemnitzer FC midfield. He exhibited eye-catching performances for The Sky Blues but his tough luck came in his way as Chemnitzer was relegated to third regional division. Ballack decided to stay and fight for the team. He scored 10 goals but could not carry his team to Bundesliga II. Ballack's leadership quality earned him the nickname 'Little Kaiser'.
Ballack's life took a new turn after he was picked up by the legendary German Coach, Otto Rehagel for FC Kaiserslautern. After his move to Kaiserslautern, Ballack never had to look back. Ballack soon earned his place in the starting XI. His combination with Olaf Marschall made Kaiserslautern, the first newly-promoted team to win the Bundesliga. Ballack continued his breathtaking performances the next season and took Kaiserslautern to the quarter-finals of the UEFA Champions League. Ballack scored four goals from midfield in that season. Then he moved to Bayer Leverkusen in the following season.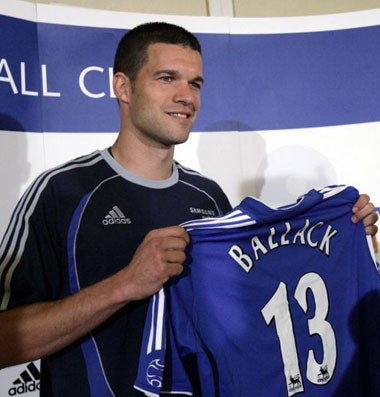 In the beginning, life was difficult for Ballack at Leverkusen. In 2000 Bayer Leverkusen needed only a point to win Bundesliga but Ballack's own-goal against SpVgg Unterhaching handed the trophy to Bayern Munich. In the 2002-03 season, a new side of Ballack was discovered. The then Bayer Leverkusen coach, Christoph Paul Daum and Klaus Topmoller appointed Ballack as the Central Attacking Midfielder.
Ballack gave eye-widening performances for Bayer Leverkusen and played a vital role in the successful yet unfortunate journey of the club. He scored 27goals in the 2002-03 season. His bad luck was again in the way of his lips and the holy grail. He failed to give Bayer Leverkusen the Bundesliga as they lost 5 points in the last 3 games. They lost to Real Madrid in the UEFA Champions League final owing to one of the greatest goals of the tournament scored by Zinedine Zidane. However, Ballack's performances were not shadowed by Leverkusen's failures as he was voted as the UEFA Best Midfielder of the Year and German Footballer of the Year.
Ballack's hard work didn't go in vain as he was picked up by German Champion, Bayern Munich at a fee of 12.9m. Ballack was an automatic starter for the Bavarians beside Bastian Schweinsteiger under the then Bayern coach, Felix Magath. Ballack with the support from Schweinsteiger used to boss the midfield. In the four seasons for the Bavarians, Ballack added 44 goals to his tally. He won German Footballer of The Year(2005), 3 Bundesliga and 4 DFB Pokals. Still, after exhibiting such overwhelming performances Ballack was criticised by Bayern director Uli Hoeness, Beckenbauer and Karl Heinz Rumenigge for his performances in some matches in UEFA Champions League. Beckenbauer even went to new low when he accused Ballack, the most consistent midfielder of the Bavarians to intentionally play in selective matches so that he can get a better club with a better salary.
Ballack joined Chelsea amid interests from Real Madrid, Inter Milan, Manchester United and AC Milan on a free transfer. A bit surprising isn't it that so many great clubs are interested in a player who had been accused by geniuses of Bayern for playing good in selected matches.
Ballack gave birth to a new Chelsea midfield which was a brutal monster during attacking and Achilles shield during defending. He was the perfect partner of Claude Makelele and Michael Essien. Ballack got his first Chelsea goal in UEFA Champions League match against Werder Bremen. He got his first Premier League goal against Portsmouth. He continued to show his leading qualities along with Lampard in the midfield. Ballack was the bridge between Chelsea's impenetrable defence and brutal attack.
He scored a spectacular goal against FC Porto in the Round of 16 of UEFA Champions League. He helped Chelsea progress to the FA Cup final by scoring his first FA Cup goal against Blackburn Rovers. Ballack scored eight goals and provided seven assists in the whole season bagging FA Cup & English League Cup. He was criticised for not playing consistently throughout the season and later the Club issued an official statement that the reason behind inconsistency was an ankle injury. Again bad luck started lingering in Ballack's way to success.
Ballack was out until the middle of December due to the ankle injury. Ballack's injury was a big blow to the attacking rhythm of Chelsea midfield. Chelsea fans missed their ferocious midfield general in English Premier League as Chelsea lost 21 points in the first 17 matches. Such poor performances resulted in the sacking of Jose Mourinho and end of Chelsea's Premier League title hope. Ballack returned against Aston Villa and showed the world that the tiger is ready to hunt. After Chelsea were 2-0 down within 36 minutes Ballack started showing his true charisma as he earned the penalty in the 45th-minute from which Shevchenko scored.
He also scored a brilliant free-kick goal to make it 4-3 for Chelsea. The match ended in 4-4. Ballack played the best game of his Chelsea career against Manchester United that season. He scored both the goals for Chelsea as The Blues won it by a 2-1 win. He bagged seven goals in that season. Ballack's comeback helped Chelsea the most in the UEFA Champions League. He scored in the Round of 16 2nd leg and quarter-final 2nd leg against Olympiacos and Fenerbahce respectively. He earned the penalty in the 2nd leg of the semi-final against Liverpool. In the final, Ballack was used to break the supply line between Cristiano Ronaldo & Wayne Rooney and Carrick & Scholes which he had done successfully. Again the man lost to his luck as Chelsea lost in penalties. The picture of him crying after the defeat is still crystal clear in the mind of every Chelsea fan.
In the next season, Ballack was very inconsistent due to injury problems. His role was also changed under the tactics of new coach Luis Felipe Scolari which compromised his goal-scoring ability. He scored only four goals and provided six assists. In the UEFA Champions League, the defeat against Barcelona showed the commitment and love of Ballack towards Chelsea as he ran furiously after referee Tom Henry Overbo after Chelsea were denied four clear penalties and Barcelona qualified with away goal advantage.
Ballack's form was revived by Carlo Ancelotti in the 2009-10 season. The Ballack-Lampard duo in 4-1-2-1-2 formation proved to be a nightmare to the opponents. The ball holding and snatching ability of Ballack and passing of Lampard added a new dimension in the attacking play of Chelsea. For the first time in their history, Chelsea thrashed 3 teams by more than five goals as they defeated Sunderland by 7-2, Stoke City by 7-0, Aston Villa by 7-1 and Wigan Athletic by 8-0. Ballack scored 5 goals and 8 assists in the season. But again the German Captain received the worst hit by luck as he was severely injured in the FA Cup final by Kevin Prince Boateng just one month before the FIFA World Cup. As a result, he lost the Captaincy to Phillip Lahm and could not play his third and final World Cup.
After this injury, Ballack never got back to his best. He went back to his old club Bayer Leverkusen in 2011 and retired in 2012.
For Germany, Ballack was an influential figure after the Klinsmann, Lothar Matthaus and Rudi Voller era. Ballack debuted for Germany on 28 March 1999 against Scotland. He didn't get much playing time under Coach Berti Vogts passing most of the time on the bench. Ballack's international career was revived after Rudi Voller took over the reign.
Under the guidance of Rudi Voller, one of the best Central Forward of his generation, Ballack's scoring ability was magnified. He scored 6 goals for Germany in 2002 FIFA World Cup Qualifier and FIFA World Cup including three goals against Saudi Arabia, South Korea and the USA. Bad luck was chasing Ballack as he missed the World Cup final due to a tactical yellow card against South Korea which Germany ultimately lost to Brazil by 2-0. According to many football pundits, Ballack's absence was the only factor that made Brazil superior to Germany in the final.
Ballack was included in the All-Star Team of 2002 World Cup. After the disaster in 2004 Euro Cup, Rudi Voller left and Jurgen Klinsmann replaced him. Ballack took over the reign of the German team from Oliver Kahn. Ballack was the most influential figure of Germany in the 2005 Confederations Cup, 2006 World Cup and 2008 Euro Cup. He led his team by an example. His aggressiveness was a symbol of the fighting spirit of the Germans and it automatically motivated his team. He guided excellently youngsters like Schweinsteiger, Marcel Jansen, Frings and Mario Gomez.
Ballack scored 4 goals and won the Silver Shoe in 2005 Confederations Cup. He was the Man of the Match against Argentina and Ecuador. He made it to the Best Team of the World Cup despite Germany being knocked out in the semifinals. Ballack again stepped up for Germany in the 2008 Euro Cup. He scored vital goals against Russia and Portugal in the pre-quarterfinal and quarter-final respectively. However, it was not enough to get his team the silverware as Germany lost to a talented bunch of Spanish kids who would ultimately rule the football world for the next 4 years. Ballack scored 42 goals in 98 games and is the 8th leading goal-scorer of the German team.
If being unlucky was an art, Michael Ballack would have been the Picasso of it. Today when the football is all about money and many players fake injuries so that they could give their best for their club instead of their country this man would have been a perfect example of dedication, leadership and commitment toward both club and country. Michael Ballack may not have won any international silverware but his legacy goes beyond silverwares. He architected the German team along with Klinsmann and Joachim Leow after the disastrous 2004 Euro Cup. He showed the world that Germans always comeback after getting hit.