Virat Kohli roared back at Karan Wahi when the latter couldn't stop giggling at the Indian captain's dinosaur walk. If someone had to describe Virat Kohli and Anushka Sharma in one phrase, it would surely be, "Stars on and off the field," as Sports Time says. This power couple hasn't stopped entertaining their fans. Even while Covid-19 is spreading its arms to embrace India with negativity, they are having fun.
Amidst the lockdown, Kohli has been continuously uploading fitness videos, commemorating special moments and also making some funny videos to keep himself busy and the fans motivated. Anushka Sharma also has been very active with not only promoting 'Paatal Lok' (produced by Anushka's Clean Slate Films) featuring on Amazon Prime. However, she also has time capturing the comical activities around her in their house. Their live conversations on Instagram live and Facebook have been another source of entertainment for people looking for some recreation in this lockdown.
The Reaction Of Virat Kohli
One of such Anushka Sharma's post has been trending on all social media platforms since Wednesday. This video features her beloved husband, Virat performing a dinosaur-like walk with a roar in the end. Apparently, the Indian batsman was just entertaining Anushka when she recorded the video only to now witness it as a national obsession. "I spotted a dinosaur on the loose," Anushka described the video on Twitter and Instagram.
Within seconds of the upload, Anushka's comment section started filling up with various reactions. These were not only from their immense fan base but also from other celebrities. These celebs found the video very humourous and couldn't stop reacting. The post soon commenced a meme trend, with Virat as the subject of creativity.
One of these reactions that caught the sight of the majority, was of actor and anchor Karan Wahi. Wahi reacted with a number of ROFL emojis, which looked like he couldn't stop laughing. However, Kohli soon came up with a reply that created a fan split. Virat commented,"@karanwahi tujhe badi hassi aa rahi hai saale (you are laughing to much)." This must be a very casual conversation for both of them (Virat and Karan) who have known each other since the Delhi U-19 selection days.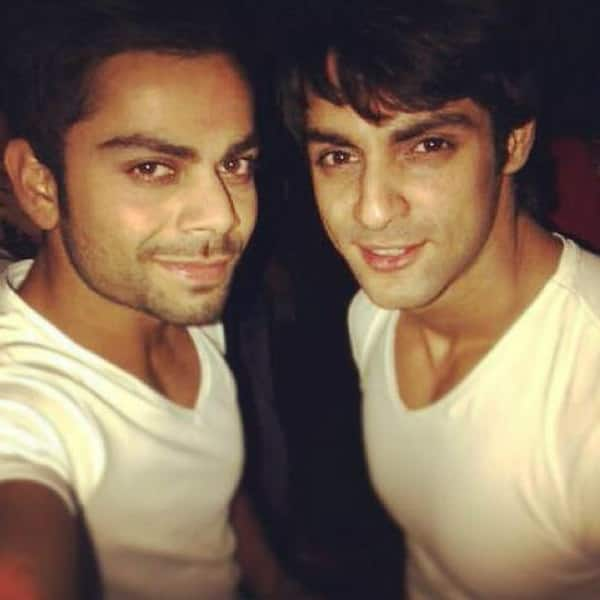 The Back-Drop To This Story
Karan Wahi before entering the entertainment field tried his luck with cricket and has maintained his friendship with Kohli. However, the fans especially the media took it the other way. Virat's comment was liked 19,000 times, media has been posting this as a heated conversation between two celebrities and the comment section is filled with people taking sides. Other celebrities who commented on the post were Ranveer Singh who simply reacted with a 'whut'.
Kajal Agarwal and also commented. Anushka's brother Karnesh wrote, "This lockdown is bringing all kind of creatures outside @anushkasharma." She replied, "It's better these creatures come out than us going out."Virat has also done his part in promoting Anushka Sharma's Paatal Lok on his social media handle. The show has been a success already, with a major chunk of credits going to Anushka and Virat.