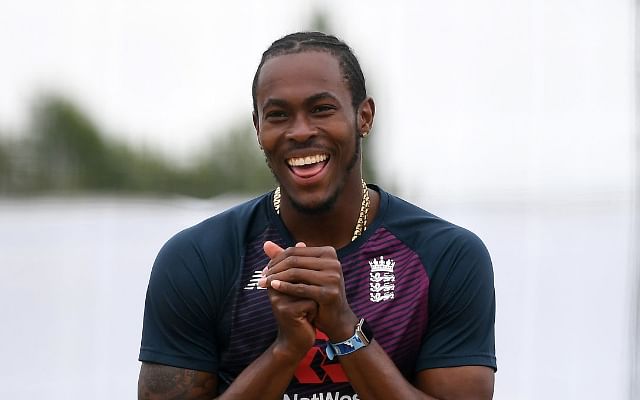 The Indian cricket team regular has shined with his bat in his last KXIP matches. He has already scored a century and now a fifty helping the team to grand totals. The batsman who looked out of form in the first match has really stepped up now. KL Rahul is just getting better day by day. He has put up an incredible opening partnership with Mayank Agarwal in the game against the Rajasthan Royals.
Such is the swagger of Rahul at the moment that he nibbled out three consecutive boundaries in an over with Jofra Archer bowling. The fact he is taking such bowlers with ease is just fascinating. His brilliance is taking the Punjab based franchise to get on 200 once again on the scoreboard. Royals are having no clue to stop him.
Back to back boundaries by KL Rahul off Jofra Archer!!

Great cover drives!!#iplseason13 #IPL2020 #KXIPvsRR #KXIPvRR #RRvsKXIP pic.twitter.com/kT8jO2iQX7

— Pratik Jawanjal (@PratikJawanja17) September 27, 2020
What A Solid Performance By KL Rahul And Mayank Agarwal And Finish By Nicholas Pooran
He did the same against Royal Challengers Bangalore by smacking an adorable 132 runs out of just 69 balls staying not out. Rahul hit 14 fours and seven sixes in his innings to make a mammoth chasing score of 207. RCB tumbled down on 109 all out. In that game, the child played with South African veteran Dale Steyn. Rahul is in the form of his life in this edition of the IPL.
On the other hand, Jofra Archer is falling behind in his duties. Normally a beast, the English pacer is failing to show his impact in Dubai's slow pitch, hosting the IPL this time out. It hasn't benefitted the bowlers in conditions like this with monstrous scores been put up by batsmen without any problems. It should not be an excuse for a talented and class bowler like Jofra Archer.
KL Rahul hammered him tonight but it was the case for the last game too. Thankfully, it was RR that time who put up a gigantic score of 216 for CSK to chase. Chennai's innings ended on 200 rather than any low scoreline. Jofra Archer in that game had an economy of 6.50, took a wicket too and gave 26 runs. It was off his standards.
However, this game was even worse with Nicholas Pooran really smashing him as well. Despite that, Jofra Archer had already predicted it, back in 2013.
Pooran is just kill me

— Jofra Archer (@JofraArcher) October 10, 2013
What Next In The Game For The Two Teams; Who Will Win This Tie?
This game, however, came very expensive for him. He conceded an average of nine runs per over, giving out 28 runs and no dismissal (until 18 overs). RR will be hoping he quickly changes gears in their next game against KKR. Otherwise, the team is lacking a leader in the bowling sector.
For Rahul, it is back to back brilliant innings from him and the Punjab hierarchy will be pushing him to do more of such things in future. He is leading from the front and will continue to do so.
Both teams will want to win this tie and take back two points. It is a key fixture, as it will help them build momentum for the games to follow. 224 is the target in 20 overs for the team from Rajasthan. It will not be an easy one but let's wait and watch how they respond now.