The Indian chinaman Kuldeep Yadav has been in excellent form in the last few years. Kuldeep has settled in the Indian Team and has also become a trump card for Virat Kohli. He has the knack of bamboozling batsman with his deliveries. Most of the batsman does not pick his deliveries. He has bowled many good deliveries in his career. However, he has bowled no better deliveries than the ball which castled Babar Azam's stumps in the ICC Cricket World Cup 2019.
Kuldeep Yadav bowled a dream delivery to dismiss Babar Azam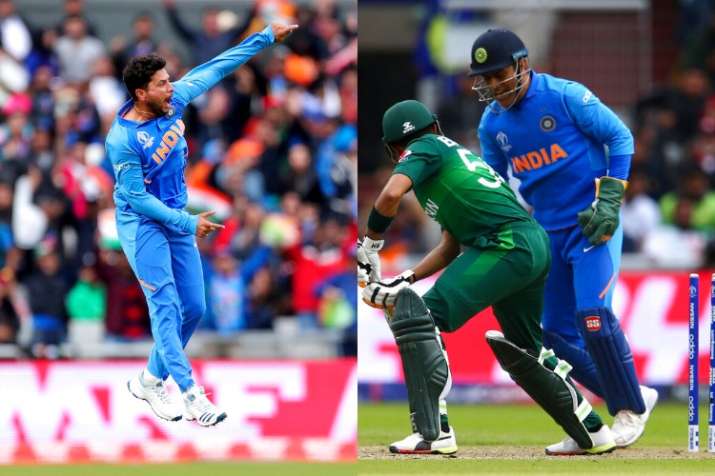 Kuldeep bowled a peach of a delivery to dismiss Babar Azam, who was batting very well. Even the spin king Shane Wane would have been proud of the delivery. Batting first, India posted a score of 336 runs on the board. After losing the wicket of Imam-Ul-Haque, Pakistan slowly started to take control of the game, courtesy of a 113 runs partnership between Babar Azam and Fakhar Zaman. Just when things were looking in control for Pakistan, Kuldeep Yadav provided the breakthrough for the Men In Blues.
In the 18th over of the Pakistan Innings, Kuldeep bowled a jaffa. Kuldeep's delivery started to drift away from Babar, and after pitching, turned back sharply. Babar could not negate the sharp turn and the ball snicked between his bat and pad to castle his stumps. That was a dream delivery for any spinner. Kuldeep, during a chat session with Crizbuzz, stated that it was a dream delivery for him, simply because he bowled it with a white ball which does not turn that much.
Kuldeep recalls that particular delivery
"That was something different. A spinner's ball drifted that way and went through. then it hit. And turned to come inside. Sometimes you wonder how you did that. That too a white ball, not a red one. A white ball does not even turn much," Kuldeep told CricBuzz.com.
WATCH THE VIDEO OF THE DELIVERY:
The prized wicket of Babar wreaked havoc in the Pakistani batting lineup. The Pakistan batting lineup then crumbled like a pack of cards. It opened the floodgates for India. Pakistan lost the next five wickets for just 48 runs. The Men In Green eventually suffered an 84 runs defeat (DLS).
India secured an 84 run victory over Pakistan in that World Cup match
Earlier, India posted a big total on the board, riding on the century from Rohit Sharma. Rohit notched up a sublime 140 runs inning. He got his able support from his opening partner KL Rahul, who himself scored 57 runs. The captain Virat Kohli then backed up with a 77 runs inning. India finally posted a match-winning score of 336 runs for the loss of 5 wickets.
India maintained their unbeaten streak over Pakistan in the World Cup with that win. Former Pakistan all-rounder Abdul Razzaq believes that India will prolong this lead as his team's players crumble under the pressure of an Indo-Pak match in the biggest stage.
Though the eventual results of the tournament did not go in India's favour, Kuldeep did his bit. He tried his best to make things happen in conditions that weren't always favouring him. Cheers to a wicket-taker.