Luke Harper has been off the TV since Hell in a Cell pay-per-view this year, where he teamed up with his Eric Rowan to take on Daniel Bryan and Roman Reigns in a Tornado tag team match in a losing cause. In the on-going summer storyline about "who tried to kill Roman Reigns", Luke Harper and Eric Rowan were finally revealed to be the people behind the attack to set up a feud between them. Eric also turned on his friend Daniel Bryan in the process.
But, after taking their loss, Harper was taken off WWE programming. The team between Rowan and Harper seems to have disbanded since the former has started his own storyline involving a covered cage on Raw.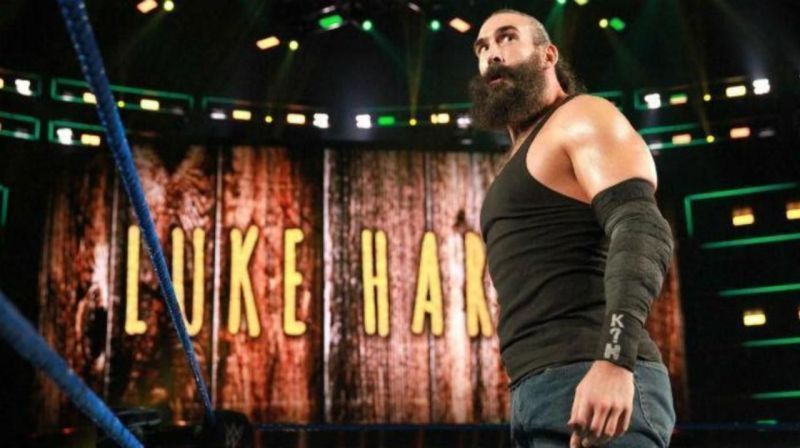 Now, according to Fightful, Luke Harper has applied for the trademark for his independent wrestling name, Brodie Lee. Brodie Lee was the name Harper used in his indie days from 2003 to 2012 most notably in Chikara, 2CW: Squared Circle Wrestling, Ring of Honor, and Dragon Gate USA and Japan. Strong performances on these promotions put Brodie in WWE's radar and the company signed him in a developmental deal on March 12, 2012.
He made his televised NXT debut in November of the same year as Wyatt Family's first son. He soon started teaming with Wyatt Family's second son, Eric Rowan to form a formidable team. On July 8, Harper made his Raw debut as part of The Wyatt Family and had his first match on the main roster on SmackDown on July 26, where he teamed up with Rowan to defeat Brodus Clay and Tensai. In 2014, after the dissolution of The Wyatt Family, he went on a singles run. He soon joined The Authority and became the Intercontinental Champion defeating Dolph Ziggler. In 2017, he again started teaming up with Rowan under the team name, The Bludgeon Brothers.
The duo won the SmackDown tag team championship at WrestleMania 34 against The Usos and The New Day in a triple threat tag team match. They went on to hold the title till SummerSlam 2018 weekend where they had to drop the title to The New Day due to Rowan's bicep injury. Harper went for wrist surgery at the same time too.
He returned on a Raw Live event in March this year defeating Mojo Rawley. He wrestled on a couple of occasions at WrestleMania Axxess and Andre The Giant Battle Royale before being sidelined completely from WWE programming. On April 16, Harper put out a tweet that he has requested release from the company.
— . (@LukeHarperWWE) April 16, 2019
The management didn't grant him the request and he continued to get paid for doing nothing. Dave Meltzer then reported that Harper's contract was originally going to expire in November this year, but WWE added another six months due to the time he missed because of injury.
It seems like Harper has made up his mind about leaving WWE and is already preparing for that by filing the trademark for his old wrestling name. Let's hope he would get to put on amazing performances outside WWE once his contract expires and could get a bigger fan following under his new name.
Nevertheless, here is The Fiend's title belt worth $6499.99 only:
The Fiend's title is available on WWESHOP for $6500. #TheFiend pic.twitter.com/uWQ9tmZTTQ

— Balor Club Guy (@BalorClubGuy) November 30, 2019