Welcome to the first edition of Wrestling Roundup! In Wrestling Roundup, we try and cover all the big news from the wrestling world and present them to you in a single article. This week of wrestling has seen many significant developments, both in kayfabe and reality. So without further ado, let us begin!
---
#1 Update on SummerSlam 2020 location
In a recent article, BeyondThePosts author Aryan Tiwari covered the news about SummerSlam taking place outdoors, with a beach or a boat being the probable location. We now have an update on the same.
WWE has looked into hosting SummerSlam within the Northeast at an outdoor location w/ limited fans, and as of now, have found no interested states in allowing that to happen.

— WrestleVotes (@WrestleVotes) July 29, 2020
WrestleVotes (known for their accurate insider reports) have reported via Twitter that WWE has been scouting locations to host SummerSlam with limited fans within North-East America, but none of the states have shown interest in doing so.
---
#2 Reported plans of Dominik's debut match
Speaking of SummerSlam 2020, WWE is planning on having Dominik (Rey Mysterio's son) make his in-ring debut at SummerSlam in a tag team match, with him teaming up with his father to take on the pair of Seth Rollins and Buddy Murphy. While that has been WWE's plan, all of it depends on whether Rey Mysterio agrees to re-sign with WWE.
Speaking on the Dropkick DiSKussions podcast, here's what SportsKeeda's Tom Colohue had to say:
"The Mysterios vs. Rollins & Murphy feud is really up in the air at the minute. It is currently on the SummerSlam agenda to have Rey and Dominik Mysterio against Seth Rollins and Murphy. However, that really depends on if Rey Mysterio signs a new deal. It's also possible that we could see Dominik Mysterio vs. Seth Rollins in a singles match, but that would be done as a way to convince Rey Mysterio, by saying that here, 'we're pushing your son'."
---
#3 Miro claims he is not a wrestler anymore
For those of you who don't know, Miro (formerly known as Rusev of WWE), was released earlier this year by the company as a part of their budget cuts. Since then, the former Bulgarian Brute has been active as a streamer. In a recent QnA session on Twitch, Miro addressed his future profession upon being released by the company and if he would ever return to wrestling. Here's what the former 3-time WWE US Champion had to say:
"I am done. Am done, man. I am just enjoying my Twitch. Am a professional Twitcher, YouTuber, content creator."

"I am not a wrestler anymore. Can I be your favorite streamer?"
---
#4 Aleister Black's status in WWE
This past week, Aleister Black was seemingly written-off television, with his arch-rival Murphy poking Black's eye on the steel steps. The week before saw Black taking a rare loss to Seth Rollins, which led to fans wondering whether Black's push was coming to an end. While initial rumours were that Vince McMahon thought that something was missing in Black, just like Cesaro, that doesn't seem to be the case.
Alex McCarthy of talkSPORT has reported that Vince McMahon is a huge fan of Tom Budgen, the man behind the gimmick, but The Chairman thinks that the Aleister Black gimmick will hinder Tom in reaching his full potential.
With Aleister Black teasing a gimmick change in his recent Instagram post (given above), we can only be optimistic about Black's future in the company.
---
#5 Matt Cardona debuts on AEW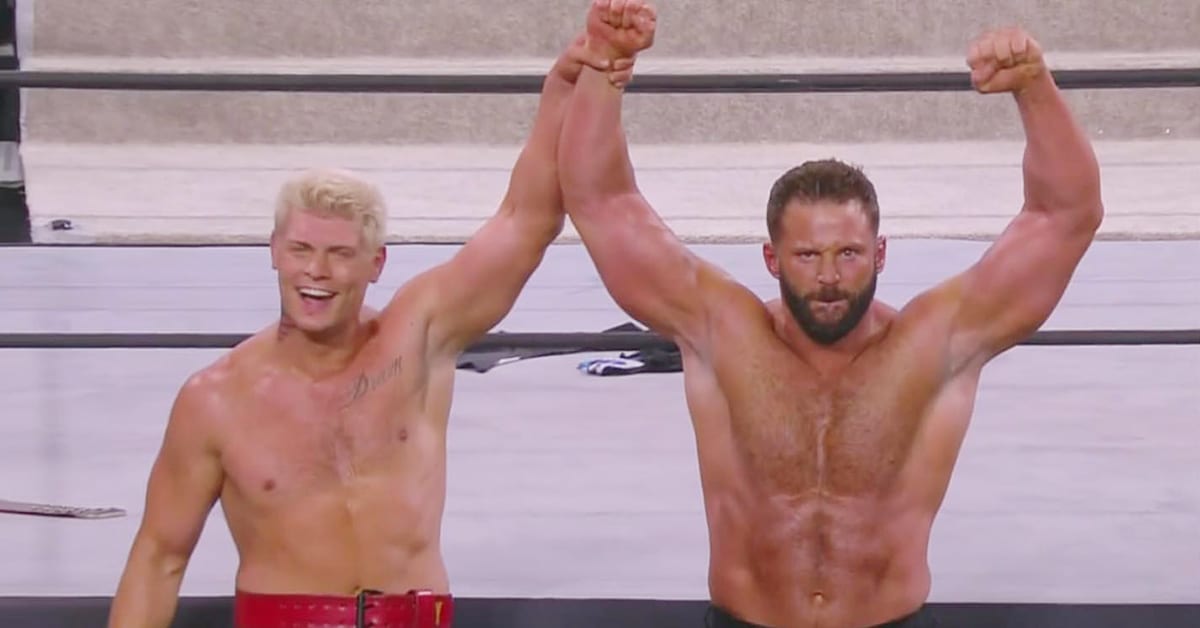 Matt Cardona, who was formerly known as Zack Ryder in WWE, debuted on this week's edition of Dynamite, AEW's weekly show. Cardona made his way to the ring to save his old friend and current TNT Champion Cody Rhodes. Rhodes was receiving a brutal beatdown from the Dark Order. The former Intercontinental Champion even took to Twitter, revealing the new name of his finisher (formerly known as Rough Ryder).
Given how Ryder was one of the most underrated superstars in WWE, we hope that he can reach his full potential in AEW.
---
That's it for this edition of Wrestling Roundup. Be sure to visit Beyond The Posts for more Roundups. That is along with the latest wrestling news, rumours, results, and analysis.