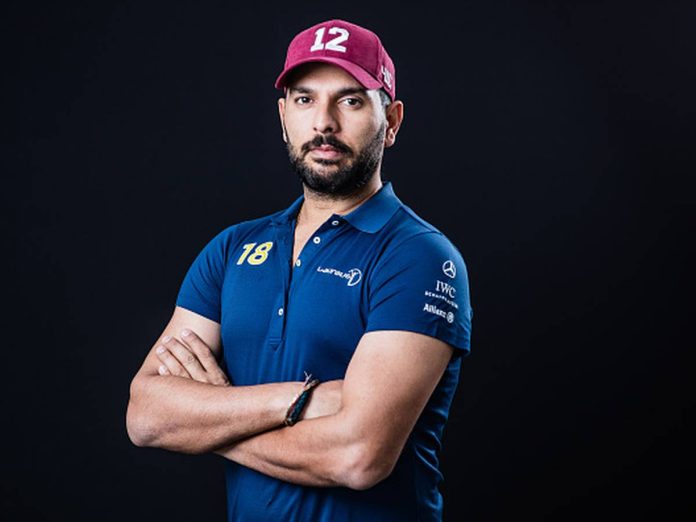 What Yuvraj Singh Said About The Debate- The debate around the age of cricket players is doing rounds nowadays in cricket universe. As Former Indian pacer, Irfan Pathan took a dig at Indian selectors and former Indian skipper MS Dhoni over his playing despite his increasing age and fitness problems. Pathan complained a few times in past that he was only removed from the Indian team due to his age. Ex-CSK member Harbhajan Singh endorsed sentiments of him by retweeting tweet of Pathan.
There is the discussion in cricket universe that T20 cricket is a game of young players only and five-plus players has any place in the shortest format of cricket or not.
What Vikrant Gupta Tweeted About T20 Cricket?
Now, sixer king Yuvraj Singh also jumped into the debate while replying to a sports anchor Vikrant Gupta. Vikrant Gupta post a Tweet about T20 cricket, "T-20 is a young man's game. There isn't any shame in admitting it."
What Yuvraj Singh Had To Say?
A 38-year-old Yuvraj Singh showed his disagreement with this thinking and replied to Vikrant, " Disagree."
When Vikrant asked him the reason for disagreement with that statement, the World Cup winner cricketer replied, " I just do not agree with that statement! I feel T20 is about being smart when to attack and when not too!"
There is a lot of discussion about the failure of Chennai Super Kings team and its reason is old-age players like MS Dhoni, Kedar Jadhav, Shane Watson. Former India skipper and current captain of Chennai struggled with his fitness against Sunrisers Hyderabad while batting. Also, Dhoni couldn't play any impact knock for the Chennai team in this season of IPL. Also the performance of 35-year-old Indian batsman Kedar Jadhav creates huge uproar on social media after Chennai lost to Kolkata Knight Riders.
More Examples From The Recent Games To Back Vikrant Gupta
Jadhav could score only unbeaten seven runs off 12 balls while chasing the target of 168. Due to the sluggish game of Jadhav, he is trapped in the centre of criticism by fans and experts. Dhoni also could make only 11 runs off 12 balls in this game. So there is a question of selection of players by Chennai Super Kings management. Many experts demanded the removal of Kedar Jadhav from team instantly.
31-year-old Aussie allrounder Glenn Maxwell again failed to score anything significant against Sunrisers. Maxwell is playing in IPL for Kings XI Punjab and could score meagre 48 runs from six IPL matches. Many experts questioned his place in the Punjab team as Caribbean batsman Chris Gayle is kept out of the team by Punjab team management.
Punjab suffered another loss against Sunrisers Hyderabad due to the failure of key players. This included the likes of KL Rahul, Mayank Agarwal, and Glenn Maxwell. While Chasing 202 runs target set by Sunrisers Hyderabad, Punjab could manage on 132 runs.
They lost all their wickets in the attempt to get there. Only Caribbean batsman Nicholas Pooran score some runs for Punjab. He hammered 77 runs off 37 balls against in this game. Before this innings, English batsman Jonny Bairstow and skipper of Hyderabad David Warner scored 97 runs and 52 runs respectively to set a huge target of 202 runs in front of Punjab.
Kings XI Punjab lost five matches in this season IPL with a solitary win against Bangalore. Due to these losses, they are placed in the last position in the points table of IPL.