We all know that Yuvraj Singh is very outspoken on social media. He even criticised the Indian selectors for leaving out Ambadi Rayudu in the World Cup 2019. Yuvi felt that Rayudu deserved to be part of the World Cup 2019 team. However, he was left out of the team just because he did not perform well in IPL 2019 and the three-match ODI series against Australia.
Fans severely criticised the MSK Prasad led selection panel for not picking Rayudu in the 15 man team for the World Cup. They picked him in the backup team. However, he did not get any chance as a replacement as the selectors preferred Rishabh Pant and Mayank Agarwal.
Yuvraj Singh, during a recent live session, criticised the selectors for picking Vijay Shankar in the World Cup squad. He was further unhappy with them for picking Pant as a replacement. According to him, these players did not have any sort of experience to play and perform straightway in high-pressure games in the World Cup.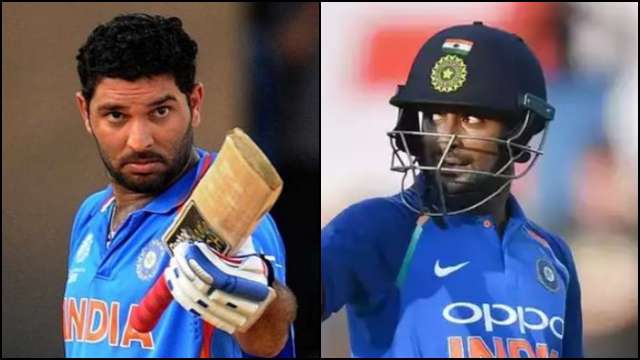 Yuvraj said that the selectors did not pick Rayudu just for his below-average IPL performance in 2019. He scored a brilliant odd 90 runs against New Zealand in that year. Moreover, saved India from a dire situation. The 38-year-old feels that with the ICC World T20 approaching this year, the new panel of selectors should focus on picking up experienced players rather than the players they like.
Yuvraj Singh takes a dig at the selectors yet again
"In 2019, I do not know what was thinking about the middle order. (Vijay) Shankar was picked to at four, and then (Rishabh) Pant replaced him. These guys played 4-5 games before the WC, they do not perform in crunch situations then you scrutinise him. What is their (Indian cricket team selectors') planning? Rayudu scored 90 in NZ and they dropped him in the last minute.
"Rayudu, who scored 90 in NZ, failed in three innings against Australia and was not in the Indian squad because he did not have a good IPL. You can not go into a World Cup with guys who have played just 3-5 ODIs. There has to be thought process while going into such a big World Cup.
What He Further Said?
"For the upcoming T20 World Cup, guys have been playing for a while. Those who have experience should be picked. In the last minute, if you pick a player just because you like him, it is not fair on the guy who is being dropped," Yuvraj Singh told Nikhil Naz in an Instagram live session.
Yuvraj announced his retirement from all forms of cricket in the last year. He played a crucial role for India in the World Cup 2011. He is one of India's finest ever all-rounders. Yuvraj played 40 Tests, 304 ODIs and 58 T20Is for India. He played for the Indian Team for the last time in 2017 before hanging up his boots.
The 'Player Of The Series' of the 2011 World Cup made some good and valid points in his stream. He has not really been happy with the way that some of the players have been treated. This includes the end to his own international career. It will be interesting to see now how the team management and the selectors respond to this.