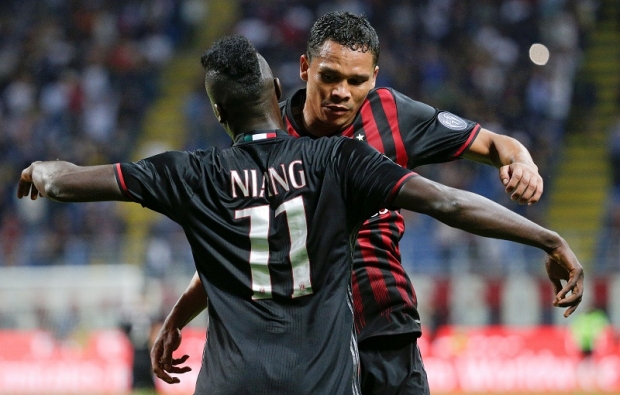 Barcelona, Arsenal and Sevilla are reportedly set to battle it out to sign AC Milan's striker Carlos Bacca. The Colombian attacker is unsettled in Italy and favors a move away from Milan this winter transfer window. Reports suggest that Barcelona are very keen on a move for the forward as a deputy to superstar Luis Suarez. The Catalonians signed Paco Alcacer in the summer window but the summer acquisition has struggled to live up to expectations at the Nou Camp as he hasn't scored in ten appearances for Barcelona.
Bacca turned down a move to West Ham in the summer but since then their London rivals Arsenal have been interested in the 30 year old hit-man's signature. With Alexis Sanchez firing on all cylinders this season, the Gunners would love to scoop Bacca to help them push for the Premier League title by bolstering their attack.
Sources from Spain also reveal Bacca's former club Sevilla are also keen on re-signing their former favorite, who scored 34 La Liga goals in 72 appearances for the club, but are worried they cannot afford him. Bacca also was a key player during his time which led to Sevilla winning the Europa League two consecutive seasons in a row.
Even French giants Paris Saint Germain want Bacca, with Unai Emery hoping to re-unite with his player who was fantastic for him at their Sevilla days.
The centre-forward moved to the San Siro in 2015 and is in his second season at the club, however Bacca does not seem happy and a move from Italy beckons in January. The strong attacker has managed to find the goal on a regular occasion for the Italian outfit.
Offering a physical and dynamic presence up-front with an eye for goal the sharp-shooter is clearly a hot target in the transfer market but only time will tell where the Colombian will land up after the transfer window.