The Portuguese star received his fourth Ballon d'Or last night beating the likes of Lionel Messi and Antoine Griezmann to the competition. 31 year old Ronaldo claimed the prestigious award and came one closer to equal his nemesis Lionel Messi's 5 Ballon d'Or's. He has now won the Ballon d'Or in 2008, 2013, 2014 and 2016 with this year arguably enjoying the most successful year of his illustrious career and claims, "I never thought in my mind that I would win the Golden Ball four times. I am pleased. I feel so proud and happy," 
"I have the opportunity to thank all of my team-mates, the national team, Real Madrid, all of the people and players who helped me to win this individual award." said the forward after collecting his prize in Paris.
The prolific forward has won the Champions League with his club and captained his national team to help them claim the UEFA Euro's this term. Two footballers behind Ronaldo on the list were Argentina's Lionel Messi and France's Antoine Griezmann.
While Messi boasts the award 5 times, he helped his Barcelona side clinch a domestic double winning the La Liga and the Spanish Super Cup but his childhood dream of winning a trophy with his Argentinian side was dashed out when he blazed over his penalty in the shoot-out loss (4-2) to Chile in the Copa America final.  
Antoine Griezmann faced the agony of defeat to Ronaldo in both the Champions League final and the Euro final, but helped his team to reach the two events before eventually losing out. Griezmann also missed a penalty in the Champions League final which may have reversed the outcome of that game.
Picture perfect (previous win) :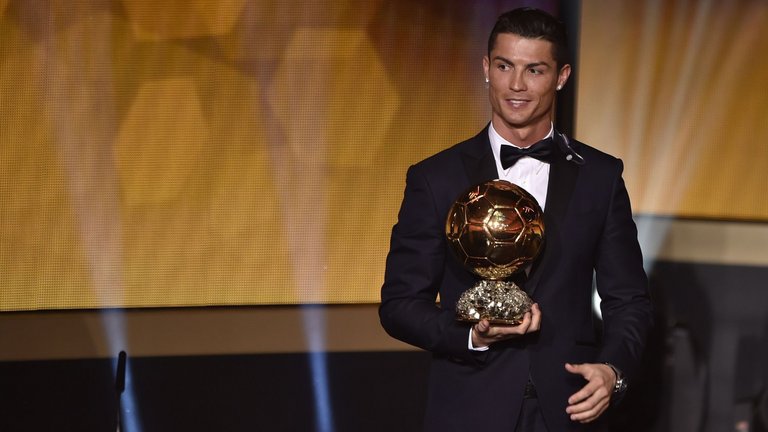 Ronaldo in contrast has had a stellar season, tasting nothing but success over the year, converting his spot-kick to ensure Real Madrid their 11th Champions League trophy in May and also cheer-leading his side to victory in the Euro finals six weeks later.
The former Manchester United man walked off the pitch midway through the Euro final but showed his coaching and leadership abilities on the sidelines encouraging his team-mates to their win through injury and in tears.
Never one to play down his achievements, Ronaldo was spotted midweek in training, having dyed his hair gold in anticipation and several media outlets published a photo earlier on Monday appearing to confirm he was the winner, before organizers, France Football magazine made the official announcement.
Ronaldo has already scored 19 goals in 20 games this season and was the front-runner to win the award this season, add the 54 goals he got last season and that made him undoubtedly the deserved Ballon d'Or winner. The Ballon d'Or is decided by a panel of 173 journalists who got it right this time.