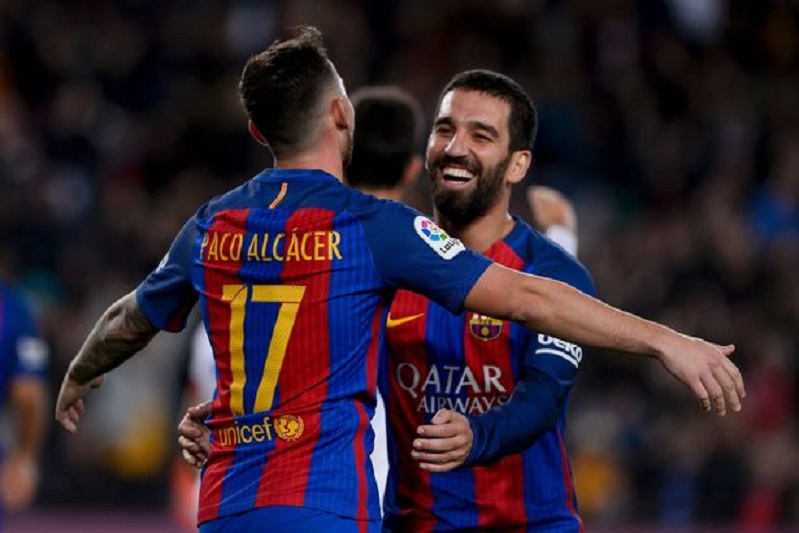 There is no doubt in anyone's mind that the champions of Spain, Barcelona were expected to win their Copa del Rey tie with Hercules, as the two teams faced off at the Nou Camp on Wednesday night. However, with the likes of Messi, Neymar and Suarez not included in the side, it was expected to be a bit challenging at least.
Despite that, it was not at all meant to be the case, as the hosts put on a show for their fans and showed once again why they are not a force to reckon with, even with their main players rested.
Arda Turan joined the goal-scoring party, as he scored a second half hat-trick, with other goals from Lucas Digne, Ivan Rakitic, Rafinha and Paco Alcacer, to complete a 7-0 pounding, in a classy showing. The tie ended 8-1 in favour of Luis Enrique's side, with the manager enjoying this onslaught by his side.
After the initial 1-1 draw that the Catalan side secured on their travels, it seemed that the game would be a much closer encounter. Inspite of that, it was not the case and the match was totally one-sided.
It will give Barca a lot of confidence, as they head towards the end of the year and will hope to cut down the deficit in the La Liga, with their fierce rivals Real Madrid leading the way at the moment.
Enrique knows that he has the bench strength now, in case of an injury to any of his top players and with the confidence from such an emphatic win, we can expect more of the same from the Spanish giants, in the days to come.